AkzoNobel to Acquire Colourland Paints to Strengthen Paints & Coatings Businesses in Malaysia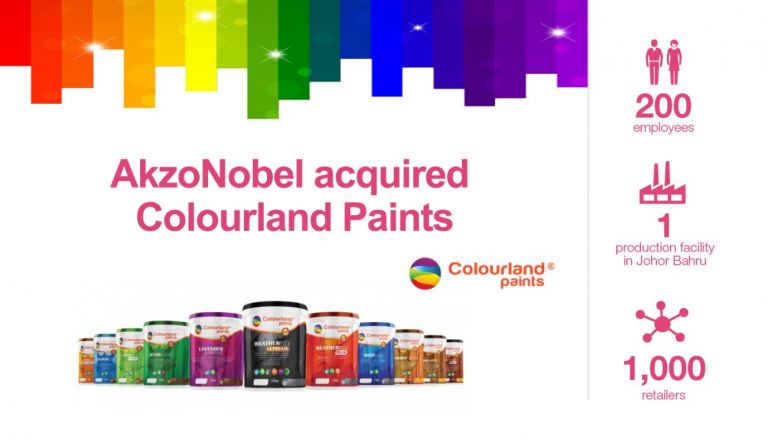 AkzoNobel, a leading global paints and coatings company has announced today, the acquisition of (100% shares in) Colourland Paints Sdn Bhd and Colourland Paints (Marketing) Sdn Bhd (both referred to as "Colourland Paints"), a home-grown paints and coatings manufacturer widely distributed across Malaysia.
The acquisition of Colourland Paints will bring a well-loved local brand to complement AkzoNobel's global portfolio. This purchase will also better serve the needs of customers and provide better customer experience through expanded product portfolio and distribution network.
"As a leading global paints and coatings company we are proud to add the well-established brands and expertise of Colourland Paints to our business," said AkzoNobel CEO Thierry Vanlancker. "We are looking forward to unlocking the value it will bring and increasing our footprint in this fast-growing region."
Commenting on the acquisition, Managing Director of AkzoNobel Decorative Paints, South East & South Asia, Middle East, Oscar Wezeenbek said, "The acquisition of Colourland Paints marks another milestone in ensuring that we continue to deliver the best brand and customer experience. The combination of global and local expertise is an excellent strategic fit and will accelerate our development and further build our strong market position in Malaysia."
The transaction includes all relevant technologies, patents and trademarks and assets of Colourland.
Madam Khoo Sue Khek, Managing Director of Colourland Paints Sdn Bhd, said, "Since our establishment in 1999, Colourland Paints has been widely accepted as a symbol of quality and reliability across local and export markets in the region. Given the positive track record that AkzoNobel has earned over the years, we are honoured to hand over the keys to our doors to one of the biggest, most established paints and coatings manufacturer in the world. With that, we also hope that our customers will continue to benefit from the combined expertise and product offerings".