Abbott Introduces New PediaSure® with OptiHEIGHT to Support Childhood Nutrition and Growth in Malaysia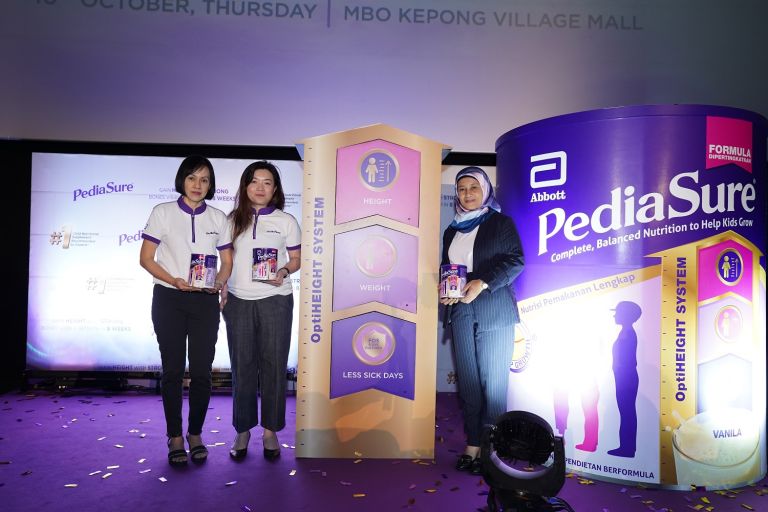 KUALA LUMPUR, Malaysia, Oct. 10, 2019 – A child's early years are critical to their growth. During this period, children undergo a significant increase in physical development, and nutrition plays a crucial role in ensuring children meet their full growth and learning potential. Yet many children across Malaysia experience growth issues, which can ultimately impact their health. That's why Abbott is launching new and improved PediaSure with OptiHEIGHT System which now has Arginine, natural vitamin K2, calcium and 25 key nutrients to help children between the ages of 1 to 10 achieve their optimal height and learning potential.
Across Malaysia, faltering growth is an issue affecting many children. New evidence has revealed that more than 20% of Malaysian children suffer from faltering growth1. The prevalence of this issue is an increasing concern, as impaired growth has significant consequences on the health, education and development of children1.
"We have learned that faltering growth is broadly prevalent across all income brackets, ethnicities, states and even the urban-rural divide1. Malaysian children are experiencing the effects of a national malnutrition problem, with 1 in 3 Malaysian children not receiving adequate nutrition during their most crucial growth period1,'' said Dr Chin Wai Seong, Consultant Paediatrician.
KEY NUTRIENTS FOR OPTIMAL GROWTH
Children achieve 60% of their potential height within their first five years of life[i]. While genes play a role in determining height, 80% of growth is contributed by nutrition[ii]. Thus, it is important to ensure a complete and balanced diet in growing children to prevent faltering growth and help them achieve their optimal height.
"Providing children with adequate nutrition is key to combating the issue of faltering growth. Now more than ever, it is important to take a scientific approach to incorporate growth supporting nutrients in a child's diet," according to Dr Nina Mazera Mohd Said, medical director of Abbott's nutrition business in Malaysia. "Our new PediaSure includes arginine, an amino acid shown to trigger the release of growth factors to support longer bone growth[iii] and vitamin K2, which plays a critical role in supporting the development of strong bones[iv]."
The new and improved PediaSure with OptiHEIGHT System comes with arginine, natural vitamin K2, calcium and 25 key nutrients to help children ages one to 10 achieve their optimal height and learning potential.
"At Abbott, our goal is to help people live better and healthier at all stages of life, and we continually strive to bring superior nutrition products that support all Malaysian children," said Amal Kelshikar, division vice president of Abbott's nutrition business in Pacific Asia, "Today, we are excited to launch yet another innovation – PediaSure OptiHEIGHT, our newest formulation in nearly a decade to help growing children reach their optimal growth  potential through scientifically-backed nutrition.''
Starting this month, PediaSure is available at all major pharmacies, supermarkets, hypermarkets and Chinese medical halls nationwide, as well as on Lazada and Shopee.
About Abbott:
Abbott is a global healthcare leader that helps people live more fully at all stages of life. Our
portfolio of life-changing technologies spans the spectrum of healthcare, with leading businesses and products in diagnostics, medical devices, nutritionals and branded generic medicines. Our 103,000 colleagues serve people in more than 160 countries.
Connect with us at www.abbott.com, on LinkedIn at www.linkedin.com/company/abbott-/, on Facebook at www.facebook.com/Abbott and on Twitter @AbbottNews and @AbbottGlobal.
[i] WHO Growth Standard, 2007.
[ii] Jelenkovic, A. et.al. Genetic and environmental influences on height from infancy to early adulthood: An individual-based pooled analysis of 45 twin cohorts. Dci. Rep. 6,28496; dol: 10.1038/srep28496 (2016).
[iii] Van Vught AJ et al. Dietary arginine and linear growth: The Copenhagen school child intervention study. Br J Nutr (2013), 109, 1031-1039.
[iv] Van Summeren MJ et al. Vitamin K status is associated with childhood bone mineral content. Br J Nutr (2008), 100, 852-858.