Abbott Introduces Ensure® Gold with HMB in New and Refreshing Green Tea Flavor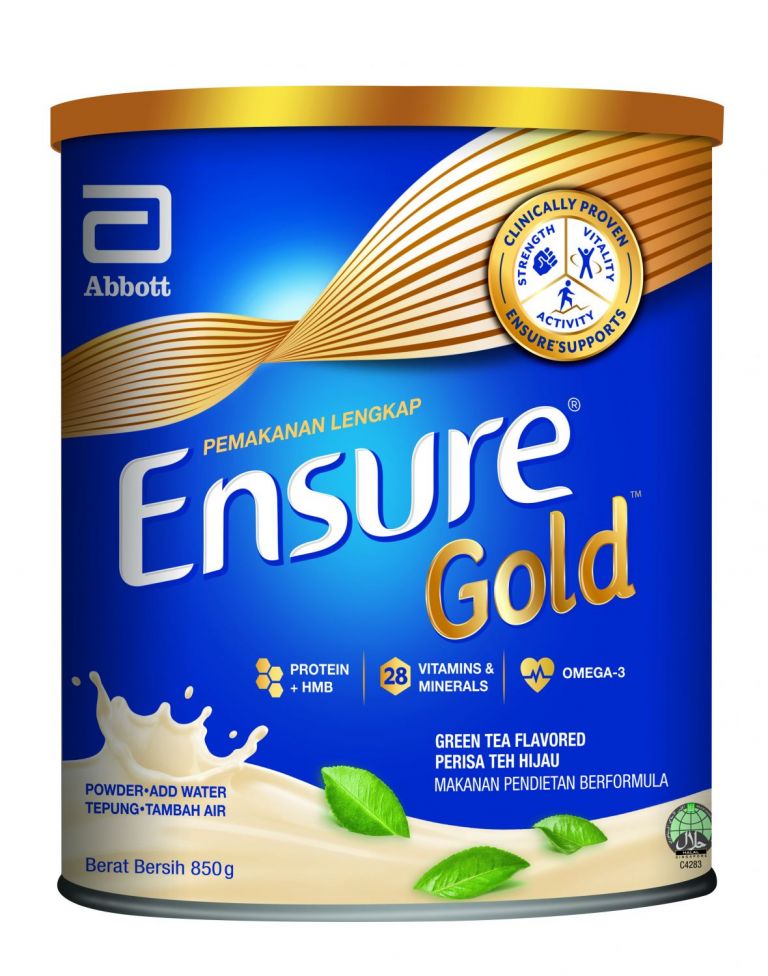 KUALA LUMPUR, Malaysia, August 22, 2019 – Malaysia is a cosmopolitan country with people from a broad range of backgrounds and cultures. In line with its aim to build a stronger Malaysia through good nutrition, Abbott has introduced Ensure Gold with HMB in a new refreshing green tea flavor to provide Malaysians a complete and balanced nutritional supplement in a new flavor they can enjoy.
"Our goal at Abbott is to help people live longer and better at all ages and stages of life through good health," said Amal Kelshikar, Division Vice President of Abbott's nutrition business. "As we continue to develop high quality nutrition products for consumers, we are also cognizant of their varying taste preferences. We believe that taste plays an important role in the delivery of nutrition and our latest green tea flavor is testament of our efforts in meeting the evolving taste buds of consumers in Malaysia."
"With this in mind, we are excited to introduce a new green tea flavor to our Ensure Gold family," said Kelshikar. "With a great new flavor, and the muscle tissue building ingredient HMB, Ensure Gold supports healthy muscles, which are essential to maintaining strength and the ability to lead an active lifestyle as we grow older."
From the age of 40, healthy adults can naturally lose up to 8% of muscle mass every decade. This rate almost doubles to 15% after the age of 70[i]. Muscle loss typically goes undetected until a much later stage, but it is commonly characterized as a loss of strength. While the process of muscle loss is inevitable, it can be slowed down and even reversed with proper nutrition.
Abbott's Ensure Gold is a complete and balanced nutrition supplement, scientifically formulated with HMB, triple protein blend, calcium, vitamin D and a total of 28 vitamins and minerals to help improve strength in as early as 8 weeks[ii]. HMB is a metabolite of the essential amino acid leucine and has been shown to help the body regain strength[iii].
Apart from the new green tea flavor, Ensure Gold with HMB is also available in vanilla and wheat flavors and comes in various sizes including the 850g can and new pouch-in-box packaging in 400g, 1.2kg and 2.4kg. Ensure Gold is available at all major pharmacies, supermarkets, hypermarkets and Chinese medical halls nationwide, as well as on Lazada and Shopee.
For more information about Ensure Gold nutritional supplement, please visit https://abbottnutrition.com.my/products/ensure-gold.
About Abbott:
Abbott is a global healthcare leader that helps people live more fully at all stages of life. Our portfolio of life-changing technologies spans the spectrum of healthcare, with leading businesses and products in diagnostics, medical devices, nutritionals and branded generic medicines. Our 103,000 colleagues serve people in more than 160 countries.
Connect with us at www.abbott.com, on LinkedIn at www.linkedin.com/company/abbott-/, on Facebook at www.facebook.com/Abbott and on Twitter @AbbottNews and @AbbottGlobal.
[i] Baier S, Johannsen D, Abumrad N, Rathmacher JA, Nissen S, Flakoll P. Year-long changes in protein metabolism in elderly men and women supplemented with a nutrition cocktail of beta-hydroxy-beta-methylbutyrate (HMB), L-arginine, and L-lysine. JPEN Journal of parenteral and enteral nutrition. 2009;33(1):71-82.
[ii] Berton L, et al. PLoS One. 2015;10(11):DOI:10.1371/journal.pone.0141757.
[iii] Puthucheary ZA, Rawal J, McPhail M, Connolly B, Ratnayake G, Chan P, et al. Acute skeletal muscle wasting in critical illness. Jama. 2013;310(15):1591-600.