A Unique and Royal Confinement Experience at Esther Postpartum Care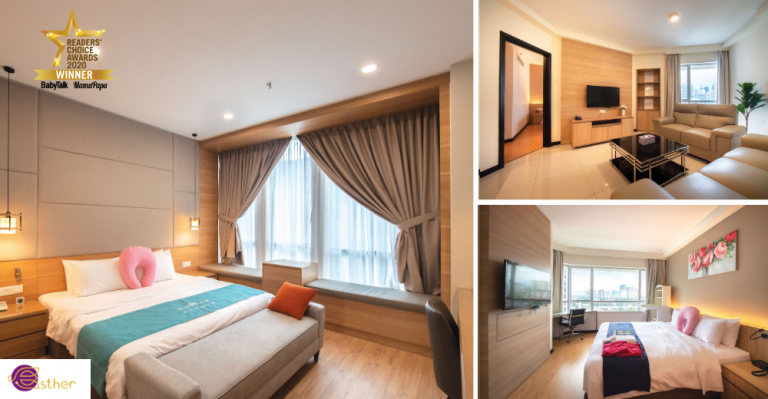 Finding the ideal confinement care services provider is not an easy task. They have to be experienced and capable in taking care of both the physical and mental needs of new moms during one of the most essential stages of their lives. Indeed, there is no better place to receive top notch confinement care than Esther Postpartum Care!
With over 10 years' professional postpartum care experience, Esther's parent company has served more than 30,000 families with more than 40 branches all over Taiwan, China and Malaysia. Esther Postpartum was established in Malaysia in 2016 as a 5-Star Professional Confinement Centre. Providing excellent care within a serene and calming environment to mothers, Esther Postpartum stands out as the first and only authentic Taiwanese Postnatal care centre in Malaysia.
Esther Postpartum emphasises traditional Taiwanese postpartum wisdom and the latest medical research. The confinement centre presents 3 distinct values: professional standard for postnatal care; a unique confinement experience blending traditional wisdom with modern science; and a focus on Taiwanese ingredients and equipment. All these within a luxurious, home-stay environment exceeding most upmarket hotels where new mothers can recuperate in ultimate comfort.
Their meals are carefully designed by dietitians, traditional medicine practitioners, and expert chefs. Meals are prepared with less oil, less salt, high fibre and high protein with scientifically calculated calories that are necessary to replace the nutrients lost during pregnancy and delivery. Exclusive herbs tea and tonic soup sourced from Taiwan are provided in accordance to postpartum stages to ensure sufficient breast milk production without the excessive intake of calories and fat.
Mothers can rest easy with the 24 hours security and enjoying the facilities that come with each room including a Queen size or King size bed, private bathroom, emergency bell, intercom, TV, Baby cam, fridge, safety box, and WIFI.
And if moms are worried if they will be bored during their stay or if they are able to take care their baby after leaving the confinement centre, fret not. The postpartum care centre's services include classes for mothers where nurses will guide moms on infant care. There are also classes for handmade crafts, yoga and managing emotions, so moms will be pleasantly occupied. No wonder mothers feel like royalty after a stay at Esther Postpartum Care!
Esther Postpartum Care recently won the BabyTalk Readers' Choice Awards 2020 for the Confinement Care Services category.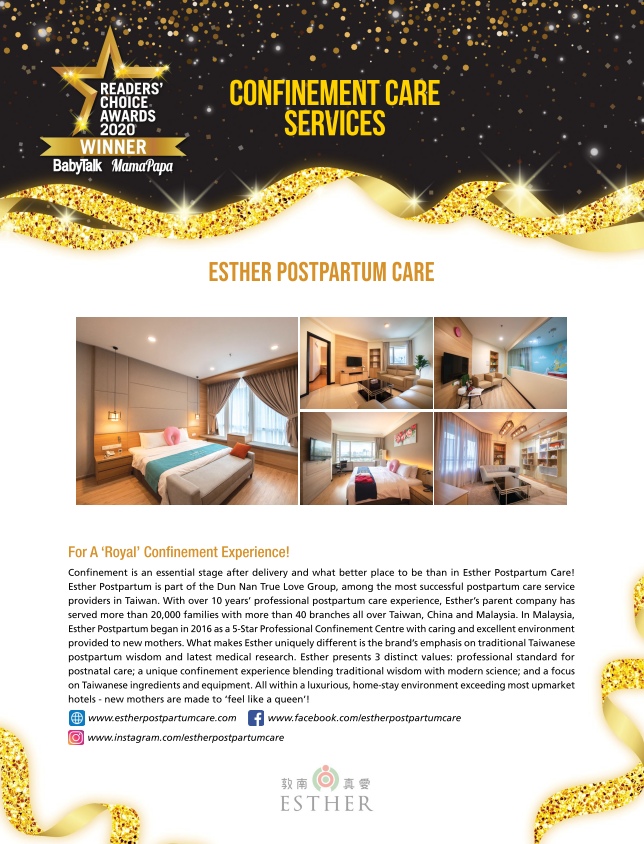 For more information, visit their website, Facebook page and Instagram page.