A Shot of Natural Plant Enzymes for Wellness On-The-Go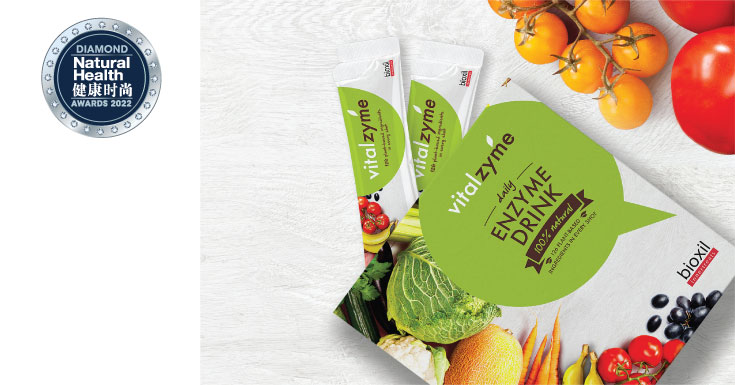 Did you know you could benefit a lot from consuming an enzyme drink? From strengthening our immunity to improving the digestive system, enzyme drinks are an easy, tasty wellness booster – they help you feel more energetic.
Enzymes are proteins that function as biological helpers that perform all the chemical reactions that occur in nature. Enzymes make it possible for you to digest food by converting carbohydrates into simple sugars used in your cells. There are three categories of enzymes: enzymes present in natural foods, digestive enzymes, and metabolising enzymes. The human body produces its own digestive enzymes and metabolic enzymes.
VitalZyme is a refreshing daily enzyme drink that offers a blend of up to 126 fruits and plants in every 15g sachet. This 100% natural enzyme drink is now powered up with doubleNUTRI® technology to provide you with a better bio-availability of potent antioxidants, organic acids and phytonutrients in each serving, with better absorption rates.
With the advancement of technology and research, VitalZyme combines natural and preservative-free ingredients of only the highest quality sourced from around the world. Besides improving overall wellness, VitalZyme also helps the body's natural cleansing process while strengthening its defence. It can also improve the digestive system while preventing constipation.
There has never been a more convenient way to take in the nutrients of precious plant foods and enjoy the benefits of natural plant enzymes. Bioxil Innertreats Vitalzyme is the natural way to maintain your overall health, keeping you lively and energetic with the precious nutrients of plant foods. Make Bioxil Innertreat Vitalzyme a staple in your daily diet, take 1 – 2 sachets a day before meal for a 360° approach to wellness and health from the inside out. VitalZyme contains no alcohol, no pesticides, no preservatives, no artificial colouring, no artificial flavouring and no added sugar.