A Preschool that Nurtures Champions, for Preparatory School and Beyond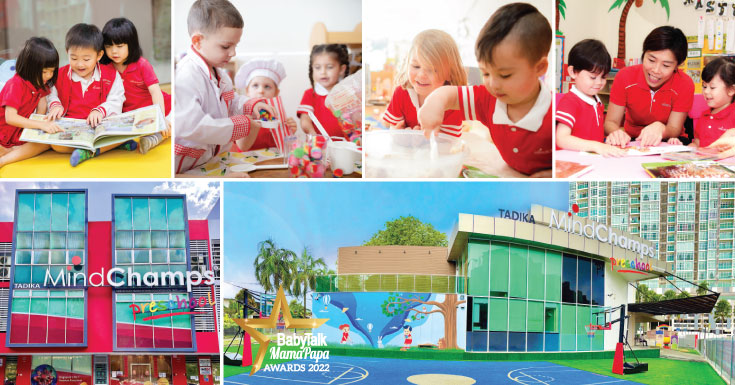 When it comes to learning at a young age, children respond better to learning through fun games and activities, which further nurtures their love of learning. This is why choosing the right preschool is crucial, as it serves as a major stepping stone for them towards preparing them for formal education.
If you are looking for a preschool for your child, look no further, as MindChamps PreSchool has the best facilities and learning programmes for your child to foster a healthy attitude towards education and self-awareness, make meaningful social bonds, and most importantly, have fun!
About MindChamps PreSchool
Having started their journey nearly two decades ago in Sydney, Australia, MindChamps PreSchool has led young minds with dedication and care. After gaining a strong footing with the centres in Singapore, MindChamps has expanded its operations and reach to countries like Australia, the USA, the Philippines, Indonesia, Myanmar and Malaysia. Situated in Johor Bahru, Malaysia, it is a premium preschool offering a holistic, all-around education for children.
The preschool shapes young minds through their unique S.M.I.L.E.S. methodology comprising integrative learning activities and experiences that promote Sensory, Motor, Intellectual, Linguistic, Emotional, and Social development. Simply put, instead of rote learning, or 'what to learn', MindChamps focuses on teaching young minds 'how to learn', and this simple shift makes all the difference in helping a child become confident, lifelong learners.
David Chiem, the Founder CEO and Executive shared that the methodology, coupled with the enrichment modules, encourages children to learn through scientifically tested methods, that help them become self-reliant in a rapidly changing world.
Why should you choose MindChamps PreSchool?
One of the core highlights of MindChamps PreSchool's modus operandi is its scientifically curated curriculum. The Champion Teachers at MindChamps PreSchool are devoted to coaching young minds through research-based education theories and impeccable pedagogy skills. In addition to providing a healthy, safe environment conducive to learning and development, MindChamps PreSchool worked alongside Neuroscientist Emeritus Professor Allan Snyder's (Fellow of the Royal Society) to formulate a unique approach to educating young minds – the revolutionary 3-Mind Approach – the Champion Mind, the Creative Mind, and the Learning Mind. Equipped with state-of-art learning facilities and equipment, MindChamps PreSchool is the ideal place for your child to unlock their inner potential.