A Natural and Non-invasive Solution to Increase Your Fertility Rate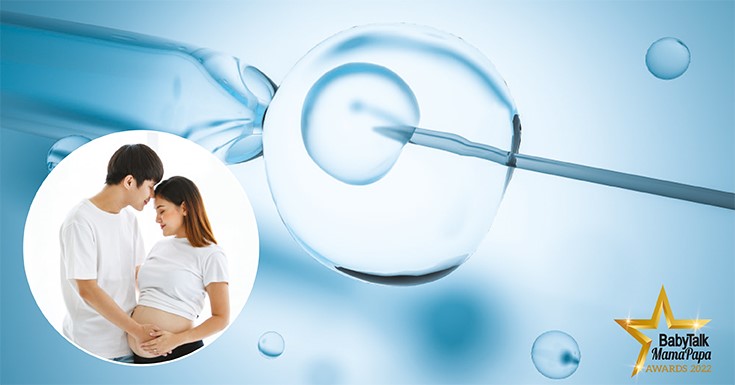 Couples who want to begin their fertility journey can look into new and better technology to raise their chances of becoming pregnant, one of which is in vitro fertilisation (IVF). Unfortunately, IVF has a 15% success rate and can be extremely costly. Verdure Healthcare offers a better solution: the Home Artificial Insemination IUI Kit, which can increase your natural pregnancy rate by up to 50% safely and quickly for a fraction of the cost of IVF.
This kit is ideal for men with poor male sperm quality, low sperm volume, and a high rate of sperm deformity. It also helps female partners who have a high rate of antibodies that destroy sperm cells.
A Private & Non-invasive Artificial Insemination Solution
The Home Artificial Insemination IUI Kit includes everything you need to do home artificial insemination successfully, including a how-to guide, syringes, and sterile catheters. Couples can perform artificial insemination on their own in the comfort of their own home by following three simple steps:
Confirm ovulation with the accompanying high-quality ovulation testing kit from the United Kingdom.
Once your ovulation date has been verified, you may use the 100% medical-grade Baby Maker kit to perform artificial insemination at home with your partner in complete privacy during the entire process. No medicine or lifestyle modifications are required, and you can begin at any time.
The baby maker kit will then deliver sperm directly into the uterus via the cervix, cutting the distance to the egg by half.
For users who need guidance, the Verdure Healthcare team is always available to answer any questions and provide support throughout the process. Furthermore, this 100% medically safe IUI kit can be used with VHC Formula Fertility Supplements to boost the chances of getting pregnant.
However, after six months of trying the kit and supplements without any positive results, Verdure Healthcare recommends going for an in-depth fertility diagnosis by Dr Terrenz H'ng, PhD. He is a well-known Malaysian Fertility Specialist who will be able to help provide you with a root cause analysis for your fertility issues.
The Trusted Choice of Would-be Parents
Since its inception in 2004, Verdure Healthcare Consultancy has assisted countless couples in realising their dream of delivering a healthy baby. Verdure Healthcare Consultancy Sdn. Bhd. is now Asia's only Fertility Specialist Consultancy, offering customised solutions and integrated medicine to treat infertility and eugenics. Verdure Healthcare collaborates with seven of Malaysia's most well-known fertility clinics, the nation's largest health screening laboratories and the best DNA laboratories in Malaysia. They also combine the best practices from Chinese and Western medicine to maximise healing efforts for infertile couples.
Verdure Healthcare is the gold winner in the recent BabyTalk MamaPapa Awards 2022 as the best Fertility Specialist Centre (Kuala Lumpur).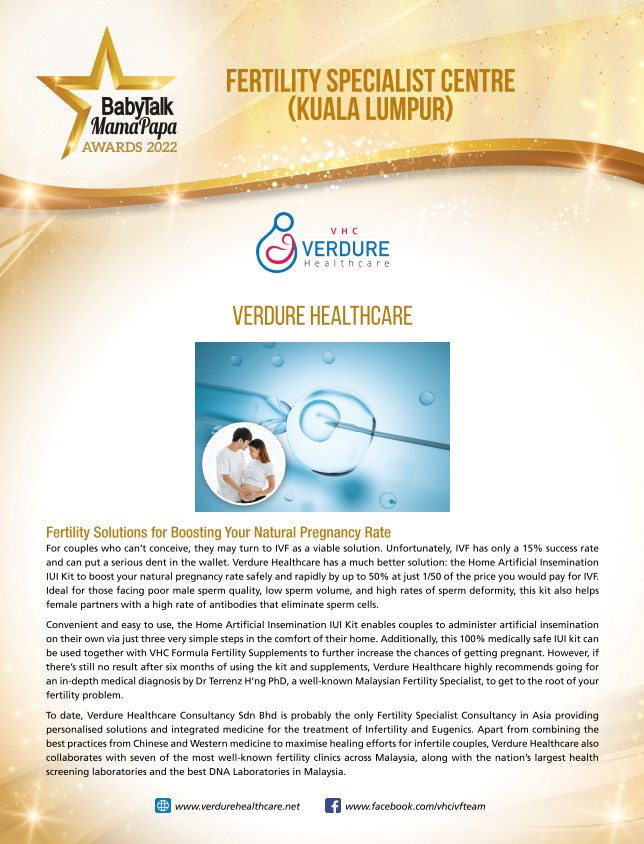 So why wait? If you're ready to start a family, the Home Artificial Insemination IUI Kit is the best way to increase your chances of success without any expensive, complicated, or invasive fertility treatments.
For more information, visit their website and Facebook page.