A Focus on Muscles: More than 3,000 Participants Joined the Abbott Ensure® Gold Strength Run for a Stronger Malaysia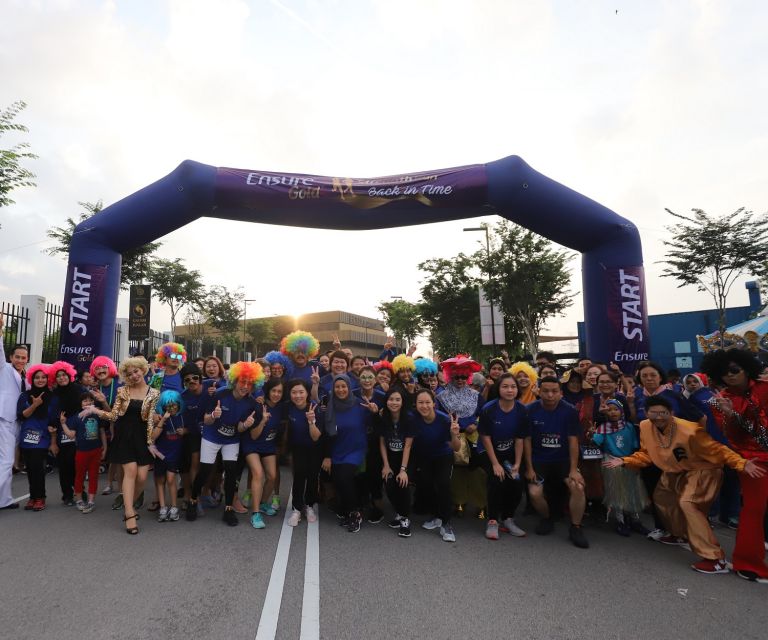 KUALA LUMPUR, Malaysia, November 13, 2019 – By 2035, 15% of the Malaysian population will be over the age of 60[i], and strength and energy are vital to a longer and healthier life. To support this, maintaining muscle health is key for older adults to have the strength they need for everyday tasks and to participate in family activities[ii]. To inspire Malaysians to make muscle health a priority and help encourage a more active lifestyle, Abbott brought together more than 3,000 older adults with their friends and families to spend a healthy weekend morning at the second Abbott Ensure® Gold Strength Run.
RUNNING BACK IN TIME WITH STRENGTH
The Ensure Gold Strength Run: Back in Time saw participation from caregivers and parents from all walks of life. "Keeping our mom healthy and active is a priority for us as her caregivers. At 81 years old, she is even more particular about getting the right nutrients and exercise to support her overall health and strength," said Angie, 55 who participated in the run with her mom Tan Thiam, and sister, Siew Lin, 54. "Initially, she did not feel too confident about completing the 3-km distance. However, she trained with our dad every morning by going for walks with him and managed to complete the run pretty easily today."
Mrs Yuan, 71 also participated in the run with her daughter, Kelly, 43. "This is my third run this year and it won't be the last. My daughter always encourages me to stay active despite my age, and I find it enjoyable to be able to get active with my family. I'm extremely glad we have activities like this that we can participate in together. We hope we will be able to join the Strength Run again next year,'' said Yuan.
The Abbott Ensure Gold Strength Run: Back in Time, a three-kilometer run was held at the Eco Ardence, Maya Park in Setia Alam on November 10. Along the route, runners enjoyed nostalgic music from the roaring 90s all the way to the disco fever of the 70s.
Participants were also encouraged to try strength activities such as a strength Zumba session or do strength assessments like the Strength Chair-challenge – a "stand-up" test aimed to raise awareness on preventing muscle loss and frailty with age by simply standing up from a chair using no hands, and only one leg.
Research shows even healthy adults can lose up to 8% of muscle mass per decade from the age of 40 and this rate nearly doubles to 15% after the age of 70.[iii] While muscle loss is a natural part of ageing, it can be slowed and even reversed with proper nutrition and physical activity.
Amal Kelshikar, division vice president of Abbott's nutrition business in Malaysia said, "As our parents age, their strength and energy levels may slowly decline. Building and maintaining muscle is key to support older adults' strength so they can participate in the moments that make life meaningful. Through the Abbott Ensure Gold Strength Run, we hope to bring together both parents and caregivers, and make muscle health and strength a priority for the family at every stage of their lives."
SUPPORTING MUSCLE HEALTH WITH THE RIGHT NUTRITION
Nine out of ten aging adults fail to meet the daily amounts of key nutrients recommended for a healthy and active life[iv],[v]. "It is crucial that adults receive adequate nutrition which includes muscle-building ingredients," said Dr Nina Mazera Mohd Said, medical director of Abbott's nutrition business in Malaysia. "Beta-Hydroxy beta-Methyl Butyrate – also known as HMB – helps to improve body movement and provide the nutrition needed for everyday strength. It's also important to keep active with regular exercise, as exemplified by the runners here today."
Ensure Gold is a complete and balanced nutrition supplement, scientifically formulated with HMB, high quality protein, calcium, vitamin D and a total of 28 vitamins and minerals to help improve strength in as early as 8 weeks[vi]. Ensure Gold with HMB is available in vanilla, wheat and green tea flavors and comes in various sizes including the 850g can and new pouch-in-box packaging in 400g, 1.2kg and 2.4kg. Ensure Gold is available at all major pharmacies, supermarkets, hypermarkets and Chinese medical halls nationwide, as well as on Lazada and Shopee.
For more information about Ensure Gold nutritional supplement, please visit https://abbottnutrition.com.my/products/ensure-gold.
About Abbott:
Abbott is a global healthcare leader that helps people live more fully at all stages of life. Our
portfolio of life-changing technologies spans the spectrum of healthcare, with leading businesses and products in diagnostics, medical devices, nutritionals and branded generic medicines. Our 103,000 colleagues serve people in more than 160 countries.
Connect with us at www.abbott.com, on LinkedIn at www.linkedin.com/company/abbott-/, on Facebook at www.facebook.com/Abbott and on Twitter @AbbottNews and @AbbottGlobal.
*****
[i] Department of Statistics Malaysia, August 2017. Available from https://www.dosm.gov.my/v1/index.php?r=column/cthemeByCat&cat=397&bul_id=SmtySjF1eXplQTIrVWh3Wkx5N1pyQT09&menu_id=L0pheU43NWJwRWVSZklWdzQ4TlhUUT09. Last accessed October 24, 2019.
[ii] Zagaria ME. Sarcopenia: Loss of muscle mass in older adults. Available from https://www.https://www.uspharmacist.com/article/sarcopenia-loss-of-muscle-mass-in-older-adults-loss-of-muscle-mass-in-older-adults. Last accessed October 24, 2019.
[iii] Baier S, Johannsen D, Abumrad N, Rathmacher JA, Nissen S, Flakoll P. Year-long changes in protein metabolism in elderly men and women supplemented with a nutrition cocktail of beta-hydroxy-beta-methylbutyrate (HMB), L-arginine, and L-lysine. JPEN Journal of parenteral and enteral nutrition. 2009; 33(1): 71-82.
[iv] Stratton RJ. Proc Nutr Soc, 2007; 66: 522-529.
[v] Martini LA, et al. Nutrition, 2013; 29: 845-850.
[vi] Berton L, et al. PLoS One. 2015; 10(11): DOI:10.1371/journal.pone.0141757.