A Finnish-Asian Hybrid Education at Lil Unicorn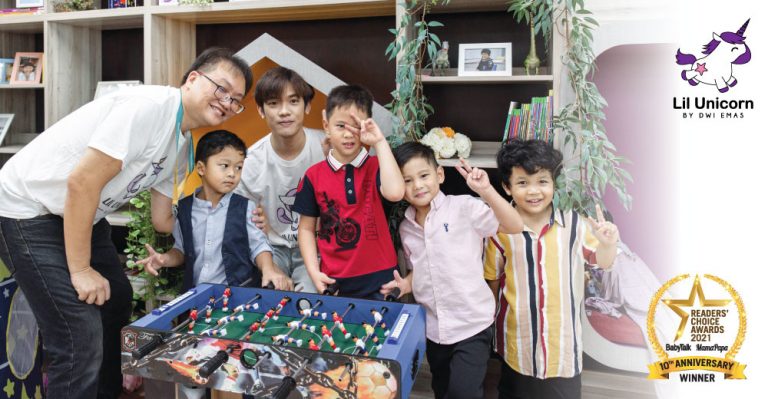 Fact: Finland has one of the best education systems in the world, geared towards children's success and happiness! How do we Asians differ by comparison on what we feel are the best ways for children to learn? And, can we tap into some of the Finnish secrets to help our students here in Malaysia thrive? The answer is, yes we can, and here's how!
It's quite the norm for Asian parents, having gone through it all themselves, to instill into their children the culture of working hard and acquiring excellent grades to be successful in their lives. The Finnish way of education, on the other hand, which is one of the best known to mankind, seems to emphasize on fun-filled lessons and skill-acquiring, but it's not all one-sided either! Instead of pushing students to get an A in all their school subjects, the Finnish education system prioritises social-emotional wellbeing and fun-based learning while still maintaining a certain academic rigour which results in smarter, brighter minds which are not stressed out. Parents too, will have no need to choose between the two priorities, for they go hand-in-hand, the way it should be! Hence, children can enjoy their precious childhood years while enriching their minds via high quality schooling.
Now, if you think about education, the Asian way and the Finnish way both have their unique benefits. Bright, futuristic minds have been born from both ways of education. Hence, can you imagine what could emerge from merging the two? Well, introducing Lil Unicorn, a Finnish-Asian Hybrid school which brings together the best of both education systems for a world-class experience for children.
Now that we live in a rapidly changing and evolving world, parents surely would want to ensure that their children get the kind of education that will ensure their future success and help them go far in life. This means that the education their children receive should ideally break away from the traditional, and head towards future needs. And, it would be wonderful if children can get such an education without having to sacrifice the wonders of their childhood. A tall order indeed, but not out of reach, especially for a school like Lil Unicorn.
Here's where the astounding success of the acclaimed Finnish teaching and learning system is made available to Malaysian families for the benefit of the young. Here's where they will be duly guided to achieving academic excellence without having to curb their natural love for fun and being curious, individualistic and fun-loving. Asian parents can also rest assured that the curriculum at Lil Unicorn was created to be specially suited for implementation in Asia. It is the brilliant result of the school's partnership with Dr Rinta Korpi, the author for the Early Childhood Education system in Finland.
A well-rounded, complete education – that's how we would like to put it, but Lil Unicorn is actually much more than that! With the added benefit of social-emotional learning, and lessons geared towards children's multi-dimensional needs, students at Lil Unicorn emerge simply better learners with a marked difference in their social skills. The holistic, stress-free wholesomeness of this hybrid curriculum allows children to learn at greater magnitudes and be fully prepared for what's waiting for them as they enter their higher education and beyond. They'll connect better with people and also with the world around them.
Ultimately the holistic, stress-free wholesomeness of this hybrid curriculum allows children to learn at greater magnitudes.
Lil Unicorn has won the BabyTalk Readers' Choice Awards in the category of Finnish Asia Hybrid Kindergarten.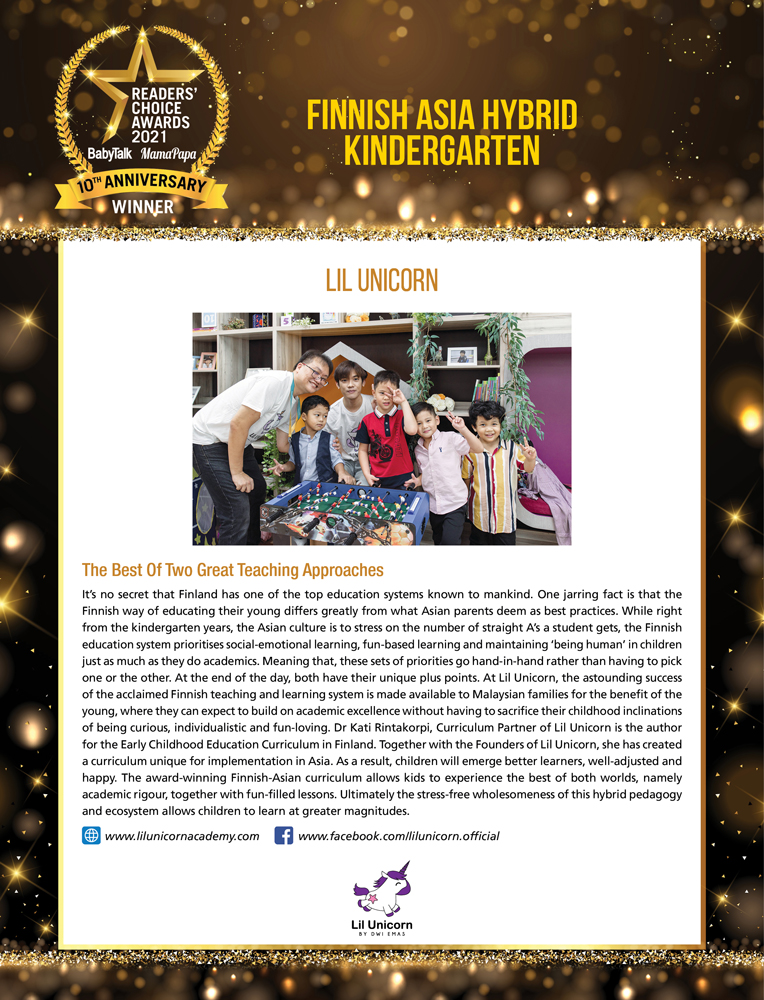 For more information, visit their website and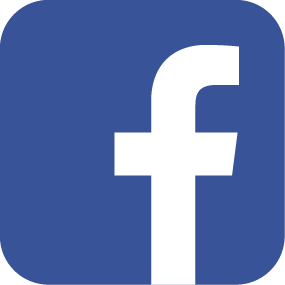 Facebook page.