A Comprehensive English Reading & Writing Enrichment Centre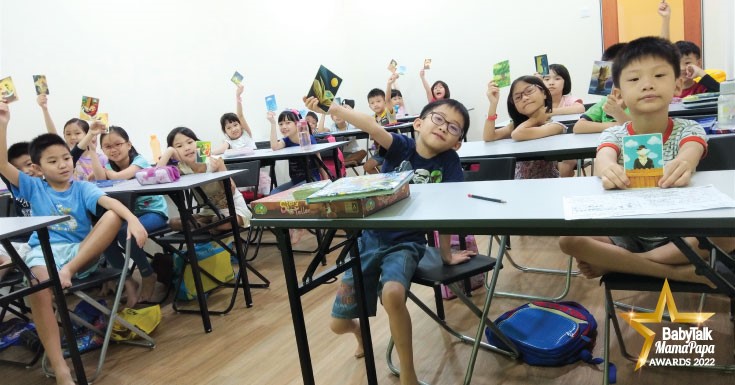 English plays an important role in a child's educational and professional success. English is a critical skill to master as it is the language of business and international communication. For these reasons, it is vital that English be introduced as early as possible in a child's education. By learning English skills at an early age, children will be able to develop the knowledge and confidence they need to succeed in school and beyond. IGS English was established to address the challenges faced by children who lack a good grasp of the English language.
Bridging the English Language Gap
IGS English offers a diverse selection of enrichment programmes targeted at developing youngsters into avid readers and creative, enthusiastic writers. Oxford English, for example, assists your children in developing proficient English speaking skills, whereas Public Speaking courses take it to the next level through story-telling, public speaking, presenting, role-playing, daily conversation, debate, and theatre skills. The Creative Writing module is designed for students and advanced writers to equip them with the necessary abilities to weave engaging stories. The popular Speech & Drama programme, on the other hand, follows a one-of-a-kind Music Tree syllabus that uses music as a medium.
The English for Leadership module is offered to students between the ages of 7 and 17 to help them build a variety of transferrable 21st century communication skills that will benefit them at school and in the workplace. Students will master verbal and nonverbal communication, conversation and discussion, critical thinking and problem-solving, research and reflection, presentation, persuasion and negotiation, planning and preparation, as well as interpersonal skills.
A Conducive Environment to Thrive
IGS English has a team of TEFL/TESL-qualified and professional educators who dedicate their time and expertise to helping students improve their English skills. The teachers have been working at the centre for many years because they love what they do, which inspires the students to be interested in and even excited about what they are learning. As such, parents can be confident that their children will receive ample guidance during their classes to equip them with language skills that will serve them well in years to come.
Since 2012, the centre has been known for its excellence in English language learning, offering courses in reading, writing, communication, and public speaking to more than two hundred children. Its reputation as a top-notch institution is well-deserved, and it has garnered multiple awards over the years. Recently, IGS English became the gold winner in the BabyTalk MamaPapa Awards 2022 in the Enrichment Centre (Reading and Writing) category.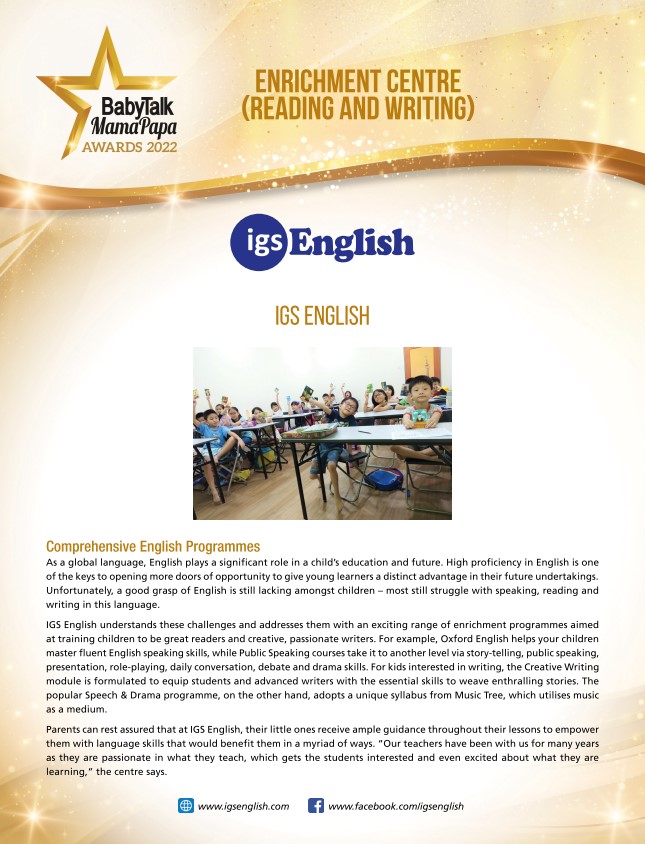 If you want to give your children the best possible English language education because you believe that it is a great investment for their current and future success, look no further than IGS English. For more information about their programmes, please visit their website and Facebook page.