50% cholesterol drop in 30 days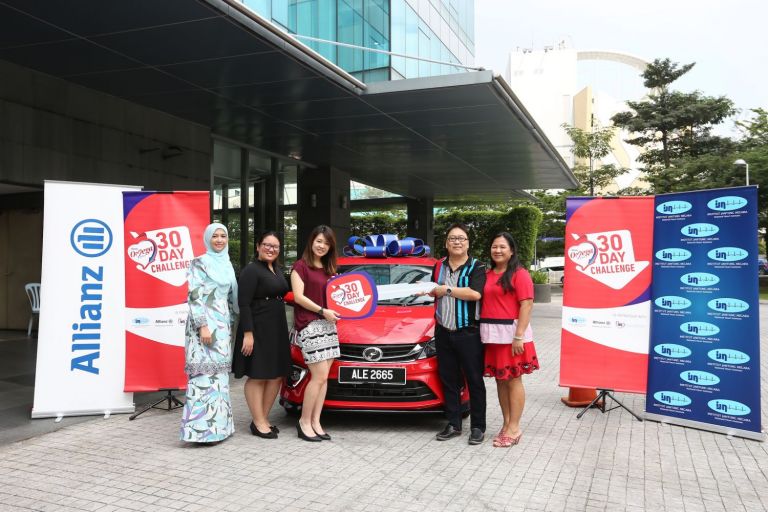 KUALA LUMPUR, 30 January 2019 – The search for the grand prize winner of NESTLÉ OMEGA PLUS 30 Day Challenge is over. Tan Kim Chan from Ipoh, Perak completed his 30 Day Challenge with a whopping 50% drop in cholesterol level, beating more than 600 other eligible contestants nationwide to take home a brand new Perodua MyVi and Allianz Life Insurance Malaysia Berhad coverage worth RM80,000.
The 30 Day Challenge continued NESTLÉ OMEGA PLUS's mission to educate and motivate Malaysians to lead a healthier life by incentivising them to be aware of their cholesterol levels, take on an active lifestyle and practise a healthy diet. This round of campaign, which lasted from April to September 2018, was organised in partnership with Institut Jantung Negara (IJN), Allianz Life Insurance and IJN Foundation. Winners were decided based on the largest percentage reduction in cholesterol levels. Top achievers were rewarded on a monthly basis, and at the end of it, the top contestant of this challenge was named the grand prize winner.
"I never thought I had a high cholesterol problem. I exercise regularly and keep an active lifestyle, therefore I was under the impression that I had everything under control. Despite this, my daughter reminded me that high cholesterol sneaks up on anyone regardless of age, gender, body size or even fitness level. She even encouraged me to have my cholesterol level checked at one of the 30 Day Challenge roadshows," Tan explained.
The cholesterol check was the first he took in a very long time and he was handed the shock of his life by the results – a high 7.76 mmol/L (normal is a reading below 5.2 mmol/L). Determined to lower his cholesterol and lead a heart healthier life, he took up the 30 Day Challenge and began consuming NESTLÉ OMEGA PLUS.
"I take NESTLÉ OMEGA PLUS twice daily, one in the morning and another one at night. I also started eating a healthier, more balanced diet, which for me meant giving up my favourite seafood and avoiding oily and fatty foods. I was already exercising regularly, so I continued to stay active," he elaborated.
His efforts paid off. On his follow up cholesterol check, he was again shocked by the results – 3.88 mmol/L, a staggering 50% reduction in just 30 days.
"I was ecstatic, but the thought of winning the contest didn't even cross my mind. The 30 Day Challenge for me really was about reclaiming my heart health and living a long, healthy life. So imagine the surprise when I was announced the grand prize winner. I am grateful to NESTLÉ OMEGA PLUS for empowering Malaysians like me to take that important first step of knowing one's own cholesterol level and making heart healthy choices. There is no better time than now to start taking better care of our hearts and I thank my daughter for the reminder and encouragement."
Post-30 Day Challenge, Tan continues to drink NESTLÉ OMEGA PLUS and watch his diet. He keeps active by playing table tennis and badminton almost every day with his friends, adding, "Seeing the prize that I won motivated my family and friends to start caring for their hearts. But the real prize for me was my healthier heart with reduced cholesterol."
High cholesterol, a major risk factor for heart disease, affects one in two adult Malaysians with about half of them under the age of 40. Despite this alarming reality, only one in five people with high cholesterol is aware of their status.1
"The road to a healthy heart begins at our fingertips, literally. With a simple blood test, we have the power to strengthen our heart health. The NESTLÉ OMEGA PLUS 30 Day Challenge was our way to make cholesterol checks more accessible to Malaysians in a bid to increase awareness of their cholesterol status and challenge cholesterol-related misconceptions," said Kumaran Nowuram, Executive Director, MILO® & Milks Business Unit, Nestlé Products Sdn. Bhd.
He added, "We are heartened by the response to the contest and wish to thank all our participants for making NESTLÉ OMEGA PLUS their trusted heart health partner. We congratulate Tan Kim Chan on his success and hope his story will inspire many more out there to begin taking charge of their heart health."
As the leading advocate of heart health, NESTLÉ OMEGA PLUS encourages all Malaysians to be proactive in taking care of their health by managing cholesterol levels. Undergoing regular cholesterol checks is an important first step in the prevention of high cholesterol. The journey towards heart healthier living starts with small behavioural and lifestyle changes. To complement a healthy diet and regular exercise, consuming two servings of NESTLÉ OMEGA PLUS daily which contains 1.2g of plant sterols and omega 3:6 that is scientifically proven to lower cholesterol levels effectively and help reduce the risk of heart disease, can make a positive impact to one's heart health.
For more information and updates on NESTLÉ OMEGA PLUS, please visit www.facebook.com/NestleOmegaPlus.