5 Signs You Need a Sharp Air Purifier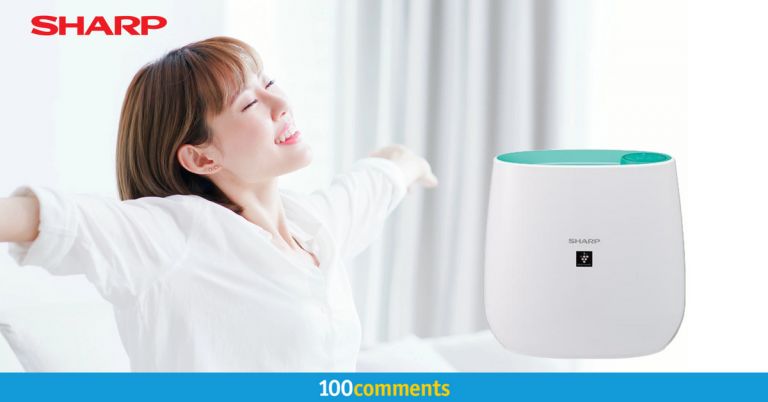 Nothing is more important than the very air that we breathe. Fresh, unpolluted air energizes the body and contributes to the fundamental health of every living being. Thus, it is important to ensure that the quality of air that we partake is as pure as it can possibly be. Especially when it comes to our children and elderly family members whose very immunities are highly dependent on living in an unpolluted environment.
Unfortunately for those of us living in the city and industrial areas, the air quality is depleting at an alarming rate. While nothing much can be done about outdoor pollution except to reduce our carbon footprint as much as possible, there is an easy and effective way to breathe in clean and safe air indoors.
The air purifier has become an essential home appliance to remove all contaminants contained in the air inside our homes including dust, dirt, allergens, pet dander, mould spores and even foul odours. Here are 5 signs that it's high time to get an air purifier for your home and why Sharp FP-J30L fits the bill:
Indoor Air Is Stale
When the indoor air is musky and stale, it tends to cause sluggishness physically and mentally thus affecting productivity. Sharp's Plasmacluster technology generates and emits the same positive and negative ions that occur in nature, revitalising the air in the process. After purifying the air, the ions turn to water and return to the air. As a bonus, the air purifier also helps to maintain moisture of the skin.
There Is Haze Outdoors
When that time of the year happens (and it is happening more frequently than ever), it is vital to have an air purifier to ensure that you and your loved ones can breathe easily even when the air quality outdoor is poor. Thankfully, the good looking Sharp FP-J30L air purifier has a haze mode, which makes it possible to enjoy clean indoor air during those smoggy days.
Allergy Symptoms
Achoo!!! Sneezes caused by allergies can mean the start of a long-drawn battle with coughs and colds, so you'll want to nip that problem in the bud. Additionally, rashes and itchy skin can be signs of contact with allergens in the home, too. With Sharp FP-J30L air purifier in your home, you can be assured that this unit will be hard at work eliminating airborne mold and suppressing activity of stubborn viruses, bacteria and allergens leaving the house occupants sneeze and itch-free.
Dust On Furniture
When you have more than the usual amount of dust collecting at surfaces of furniture at home, you may want to consider getting an air purifier. Your vacuum cleaner doesn't have to work so hard thanks to Sharp FP-J30L air purifier as its powerful air suction and unique airflow quickly and efficiently captures 99.97% of 0.3-micron dust and airborne particles.
Household static electricity will also be reduced, preventing pollen and airborne dust from clinging to curtains, clothing and other surfaces.
Bad Odours
Can't seem to get rid of the strong durian smell or food smells? Fret not, for Sharp FP-J30L air purifier can remove unwanted odours that come from tobacco smoke, cooking smells and even your beloved pets. Make your home a pleasant place to be in again!
It's Available in Three Attractive Colours
With three attractive colours to choose from, you can place a different colour for each room to suit the personality or preference of each family member!
With all these amazing features and reliable technology, no wonder it is trusted by so many folks around the world!
If you have raving reviews about this air purifier, leave your reviews here!