5 Reasons Why Moms Should Get GOO.N Mommy Kiss Premium Diapers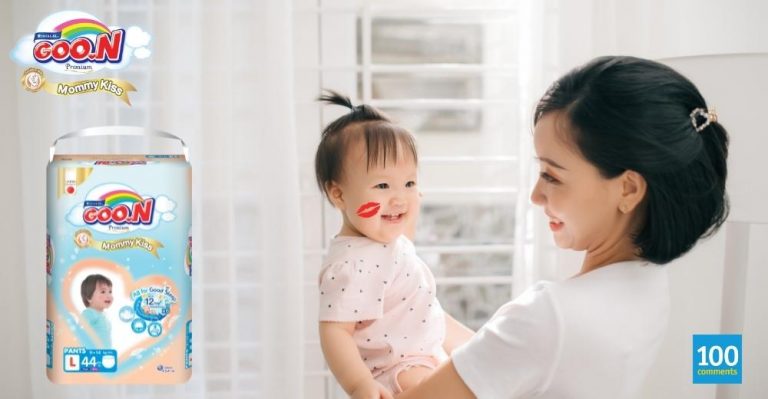 A mother's love is so awesome, so wonderful; nothing can compare to it. It is also so strong and warm; it can even be felt by babies through the diaper enveloping them. A marvellous invention in human history, the diaper makes taking care of babies so much easier. But it's not just about keeping them clean – it's about showing your love for them. You see, the diaper isn't just a product; it's a symbol of a mother's love for her baby. This is why it is so important to choose the right diaper. Here are five reasons why GOO.N Mommy Kiss Premium Diaper is a loving mother's choice.
Gentle on baby's skin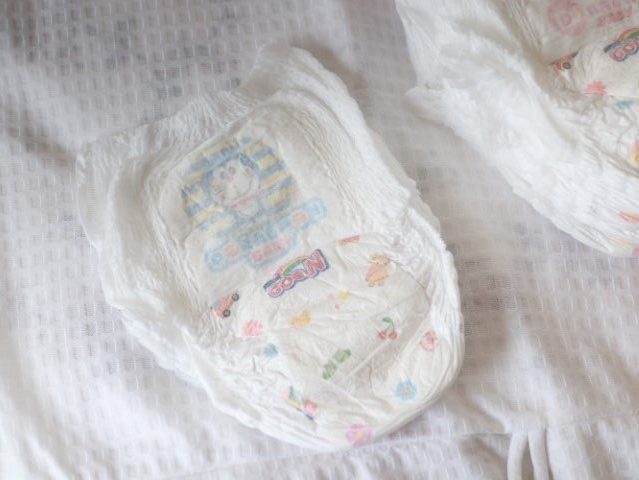 GOO.N Mommy Kiss Premium Diaper makes your baby feel comfortable, just like a mommy's pillowy hug! The diaper's fluffy touch sheet is inclusive of natural cotton, which prevents skin irritations. The diaper is also breathable and suitable for babies with sensitive skin.
Good for baby's sleep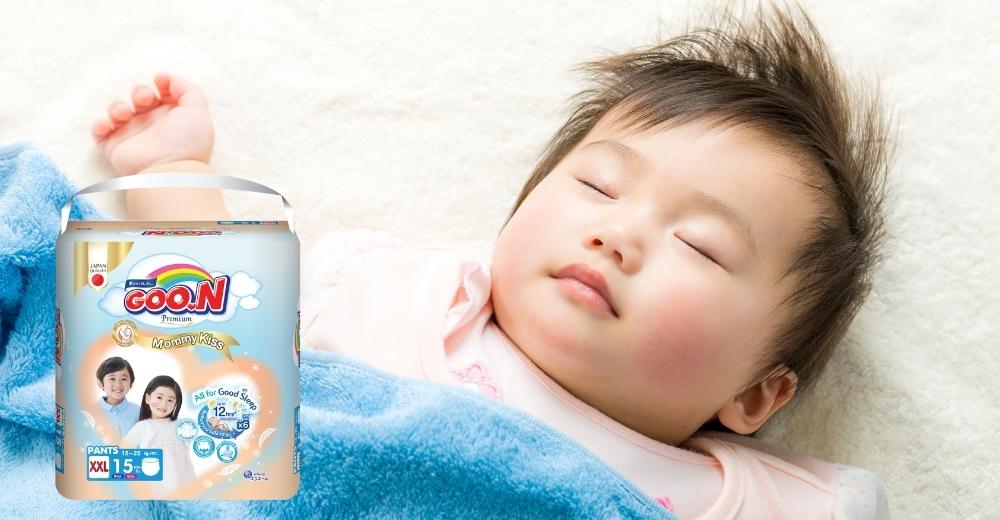 Highly absorbent, the diaper gives 12 hours of protection against leaks as it can soak up to 6 cups of water. It is quick to lock in moisture, which helps maintain the baby's comfort and dryness, enabling them to sleep soundly through the night. Mommies can sleep well, too, without having to do the tiring midnight diaper changes. In fact, 89% of customers can attest to the high absorbency rate of the GOO.N Mommy Kiss Premium Diaper.
Baby can move easily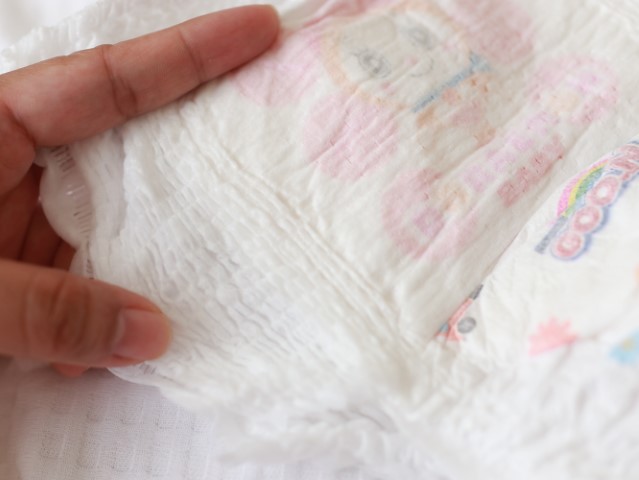 Thoughtfully designed, the diaper does not hamper a baby's movement and provides comfort in the baby's every move and wriggle. The waistband is soft, the tapes are strong, and the materials are comfortable to move in. The stretchable elastic ensures an excellent fit and prevents leaks, which is great for active babies.
Great airflow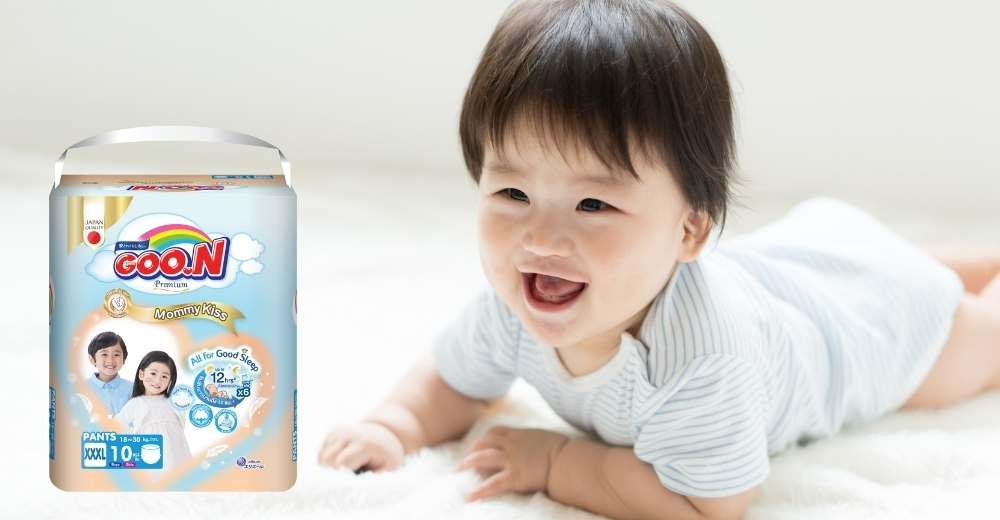 There are many problems associated with diapers not providing good airflow, including diaper rash and baby discomfort. GOO.N Mommy Kiss Premium Diaper has a good airflow design that allows babies' skin to breathe freely and keep their skin dry and healthy. This significantly reduces the risk of skin rashes. Babies can feel comfortable throughout the day, too, even when it's worn for long periods of time.
Convenient and cute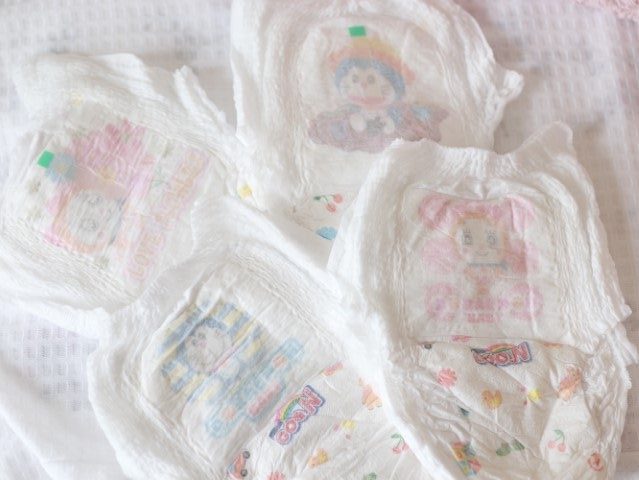 GOO.N Mommy Kiss Premium Diaper is easy to dispose of without much fuss. Just roll it up and tape it before throwing it away.
As a bonus, each diaper comes with 10 types of designs, which keeps it fun for the baby and makes changing diapers a little bit more pleasant for mommy.
Just like mummy's kiss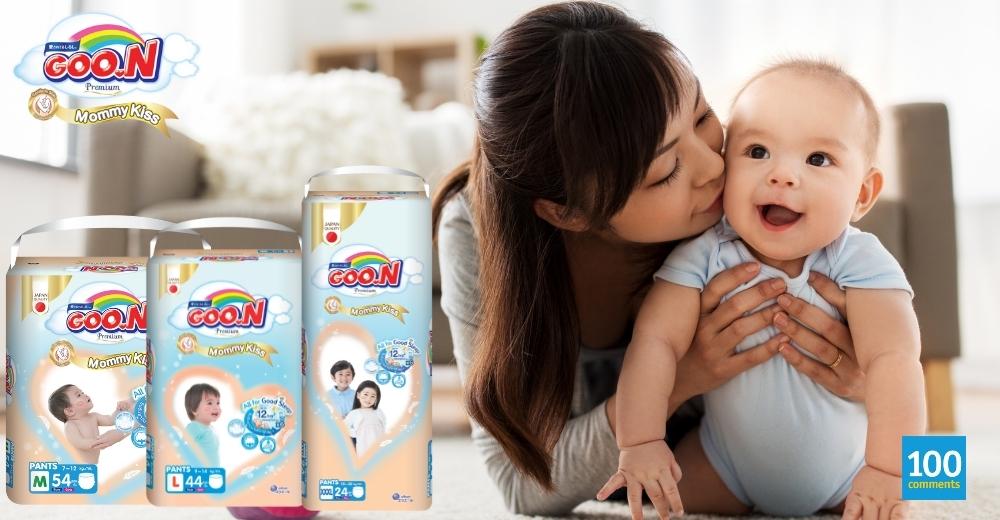 GOO.N Mommy Kiss Premium Diaper is so gentle and good; it truly represents a mummy's kiss on her baby! But don't just take our word for it – 93% of happy customers equate the softness of the diaper with being akin to a 'mommy's kiss'. Now available in size M Super Jumbo, L Super Jumbo, or XXXL Super Jumbo pack.
Launched in Malaysia for the first time in August 2021, you can purchase the diaper at their Shopee and Lazada online stores. For more info, visit their Facebook and Instagram pages. If you love it, leave a review here.