3 Bright Ideas to Keep Your Cookware Protected from Bacteria & Scratches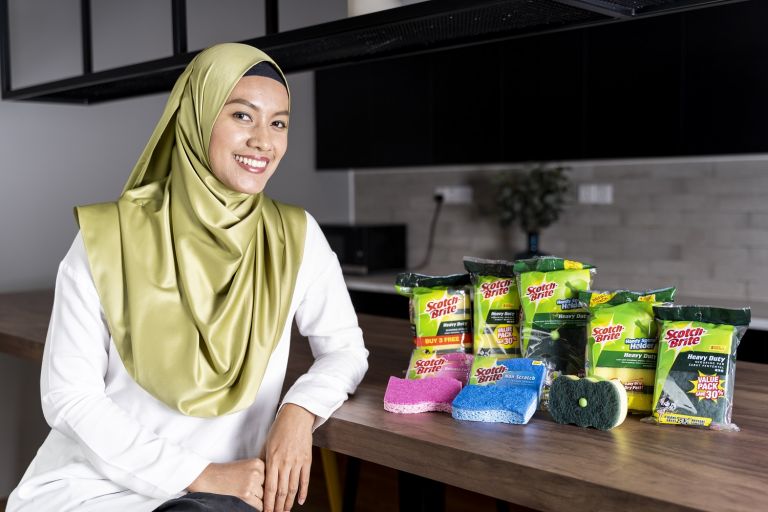 Most of us have more kitchen appliances than we can count in our home, and there's always plenty of maintenance and upkeeping to be done. But here's a catch, you probably overlook one of your most frequently used kitchen tools: your kitchen sponge.
It's handy, it's versatile, it's always within reach but when is the last time you really paid attention to it? You really should, because there's more going on in that one little kitchen sponge than you might expect. In a comprehensive study of 14 household sponges and their microbial inhabitants published in Scientific Reports, researchers confirmed that kitchen sponges are indeed domestic abominations.[1]
It has often been said that your kitchen sponge hosts more germs than your toilet. Turns out it's true. The researchers from the University of Furtwangen have found that a piece of sponge the size of a sugar cube can host as many as 54 billion bacteria, a small number of what may be pathogenic, illness-causing bacteria.
Hence, using and caring for the right sponges to clean your cookware will go a long way in keeping your kitchen clean, your dishes bacteria-free, and your family healthy. Here are three bright ideas on how you can do just that.
Keep it Dry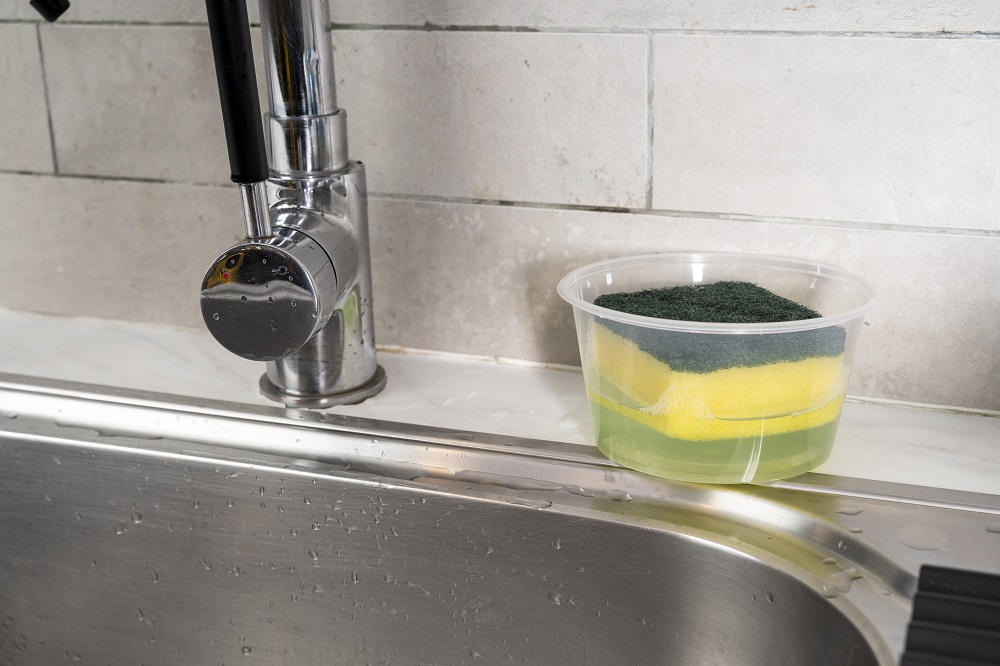 Food poisoning often result from improper handling of raw foods and inadvertent cross-contamination, which can involve the kitchen sponge. To be safe, it is important to rinse and wring out your sponge completely after each use and wash off any loose food or debris. The drier it is, the better.
After that, store your kitchen sponge in a dry location. Many of you are probably guilty of this and if you are, you need to stop soaking your kitchen sponges in a dish washing liquid bath! Letting your sponge lay wet on a countertop also takes longer for it to dry and allows more bacteria to grow. Also, avoid leaving any damp sponges in an enclosed area such as a bucket or under the sink.
To make things easier, try buying a kitchen sponge that comes with a holder. That way, it will be easier to air dry the wet kitchen sponge to reduce bacterial growth. Additionally, it will also help to organise your kitchen and save space. This is why 3M has introduced a new product, the Scotch-Brite™ Heavy Duty Easy Grip Scouring Sponge with Handy Sponge Holder. This product comes with a suction cup sponge holder that is easy to use and will help to keep your sponges dry and clean.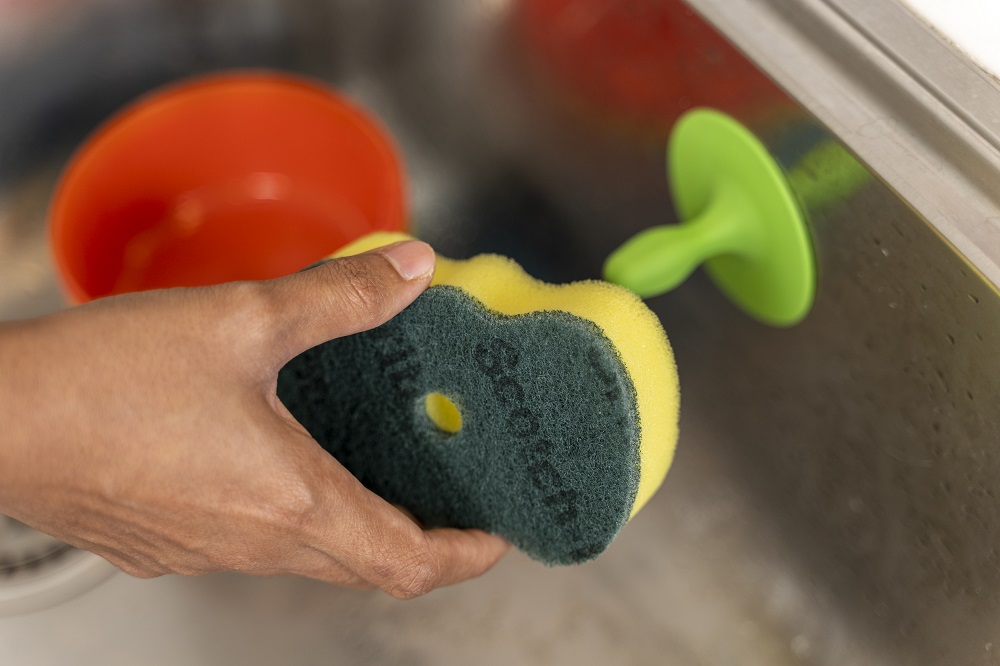 The main thing to remember is that bacteria thrive in moist environments, so keeping the sponge and the area surrounding the sink dry will create a less hospitable environment for them, preventing further growth.
Using the Right Sponge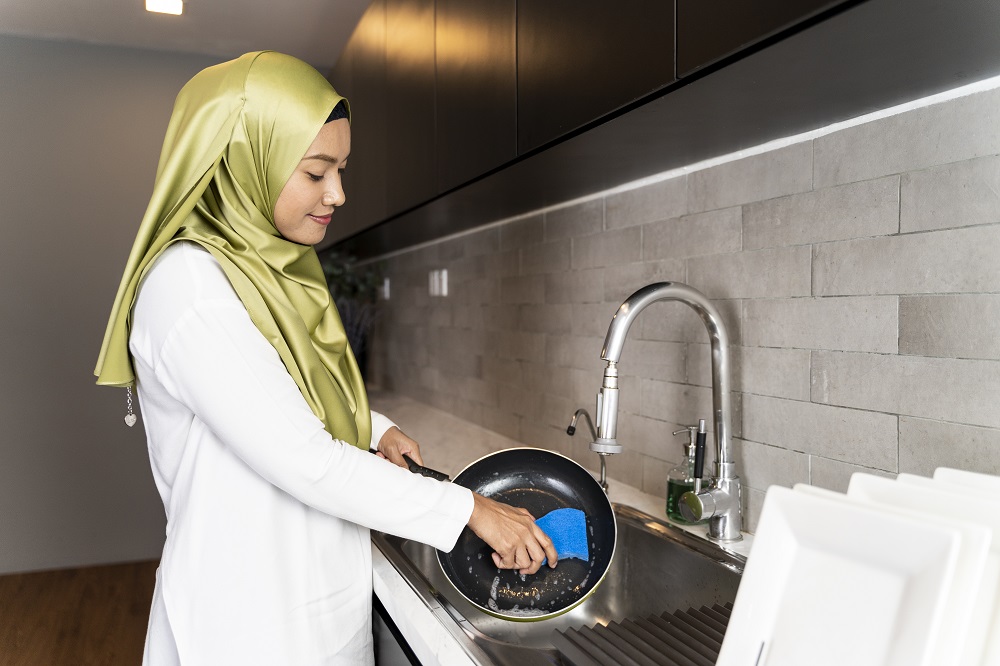 If you love to cook, it is inevitable that your cookware is going to get stained. What you can control, however, is how you handle them—and whether they stick around. If not cleaned properly, it may encourage bacterial growth.
It can be a task to remove cooking stains, so it's always a good idea to use a heavy-duty scouring sponge that removes tough and stubborn stains quickly and easily. Just give your oven, iron-cast pots, pans, or stove burner a good, strong cleaning by pairing it with your detergent or dish washing liquid to clean those tough, baked-on and over-cooked stains.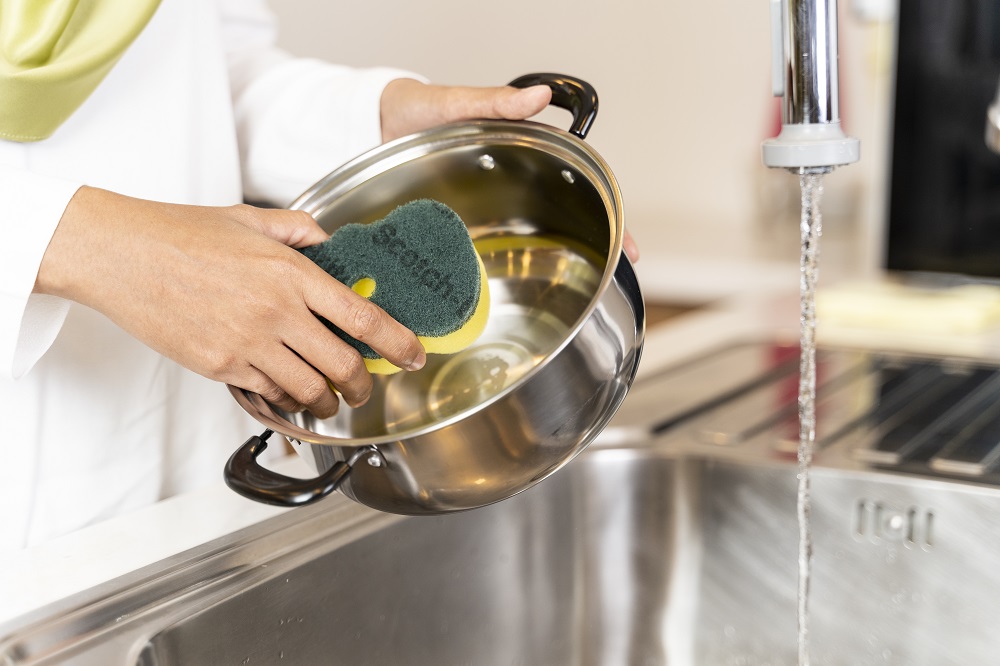 Scotch-Brite™ Heavy Duty Scouring Sponge is designed to incorporate a dense and uniform network of fibres and higher volume of cleaning particles so you can clean three times better and it can last three times longer versus other ordinary sponges.
However, be mindful to go easy on the scrubbing, especially on certain kitchen appliances and pans that may require special care like the non-stick pan, plasticware, glassware or your favourite tea set. Using a heavy-duty scouring sponge may scratch your favourite kitchenware which can lead to bacteria breeding within the tiny scratches.
For these items, a delicate or a non-scratch scrub sponge is ideal as it is gentle and cleans without damaging the surface, mitigating the risk of creating microenvironments where bacteria can breed.
Remember to Replace it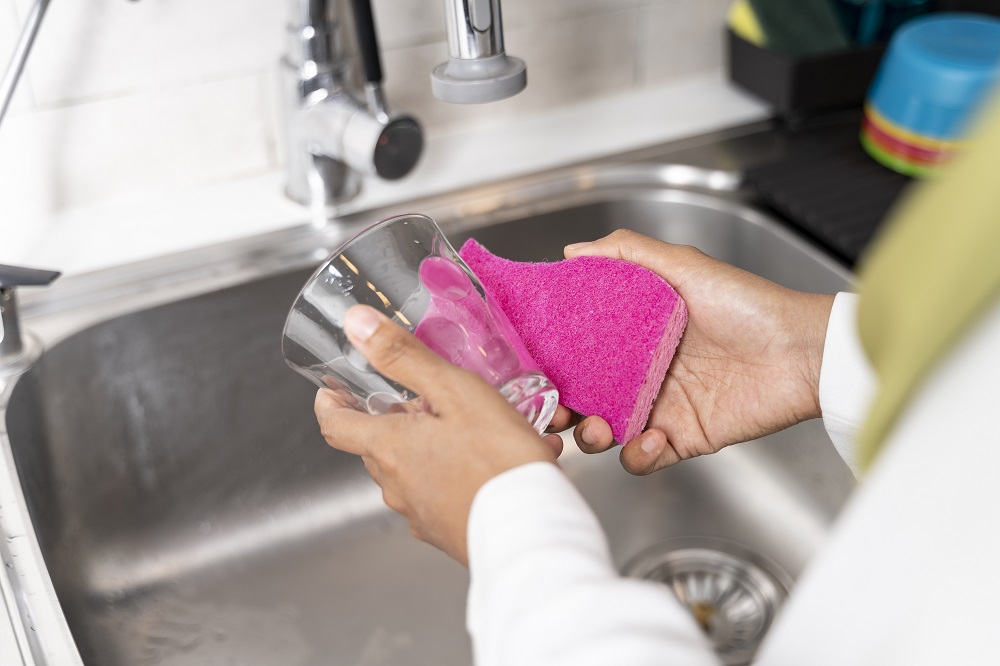 The number of times you use your sponge dictates how often you should replace it, do not wait until it is smelly.
If you cook at home most nights and wash all your dishes, pots, and pans with that sponge, remember to replace your sponge with a new one once every three-four weeks. If you're more the take-out, dining-out type, or if you have a dishwasher that does the heavy cleaning, you should still replace it every month.
Replacing it frequently may seem like a waste, but it's not. Even if you're not using it every night, there are chances of your sponge getting damp and dirty, especially since it is so near to the sink.  That means your sponge is still breeding bacteria — and no one wants to be smearing that all over their dishes, even if it's just used every few days.
Furthermore, it is not that easy to get rid of the germs inside kitchen sponges; whether you use commercial cleaning products, microwave the sponge or pop it into boiling water. While all these things do significantly reduce the bacterial load, they don't kill all the germs.1 It is also important to note that using heat on your scouring sponge will reduce its lifespan.
Kitchen sponges probably aren't something you spend much time thinking about, but next time you're at the store picking up a fresh pack, you should rethink your choices. With the right sponge and caring methods, you can rest assured that you are serving safer and healthier meals to your family.
If you're looking for the right kitchen sponge for your house, here are a few suggested products that can be used: Scotch-Brite™ Heavy Duty Easy Grip Scouring Sponge with Handy Sponge Holder,  Scotch-Brite™ Heavy Duty Scouring Sponge, Scotch-Brite™ Delicate Care Scrub Sponge and Scotch-Brite™ Non-Scratch Scrub Sponge.
With Hari Raya just around the corner, 3M Malaysia is currently selling the newly launched Scotch-Brite™ Heavy Duty Easy Grip Scouring Sponge with Handy Sponge Holder at only RM9.90 for three pieces. The 4-piece refill pack for the Scotch-Brite™ Heavy Duty Easy Grip Scouring Sponge is also available for RM9.90. Get your Scotch-Brite™ kitchen sponges today at AEON, AEON Big, Giant, Tesco, Jaya Grocer, Village Grocer, Parkson, HomePro, Ace Hardware, Tunas Manja, and Econsave.
3M and Scotch-Brite are trademarks of 3M.
About 3M Malaysia
Embodying a culture of innovation that transcends boundaries from electronics to safety and health care to industrial, 3M has been improving lives in Malaysia for more than 50 years. Founded in 1967, 3M Malaysia has grown from its humble beginnings with only 8 employees, to a company with over 300 employees. 3M's presence in Malaysia includes a local business hub for operations, sales and marketing headquartered in Petaling Jaya, a Customer Innovation Center in Shah Alam, a manufacturing facility in Seremban and an office in Penang. For more information on 3M, please visit www.3m.com.my.
  Cardinale, M., Kaiser, D., Lueders, T., Schnell, S. and Egert, M. (2017). Microbiome analysis and confocal microscopy of used kitchen sponges reveal massive colonization by Acinetobacter, Moraxella and Chryseobacterium species. Scientific Reports. [Online] Available at: https://www.nature.com/articles/s41598-017-06055-9#MOESM2 [Accessed 8 May 2019].