LittleLives: A groundbreaking new app keeps parents up to date with their little ones' lives at daycare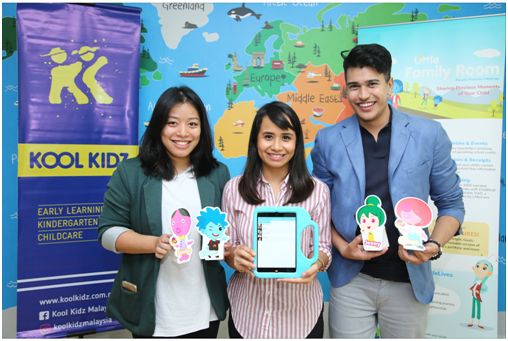 Kuala Lumpur, Malaysia – The LittleLives app has just launched their two-way communications app in Malaysia, making it easier for parents and teachers to connect over their children's activities at school and daycare. This technology aims to make a vital difference in children's lives, by keeping their parents in the loop with their growth and building a stronger partnership between parents and teachers.
The app, which first began in Singapore and is now used by over 1000 schools in six countries, promotes the importance of home-and-school partnership to build a more integrated child development. This is a key tool as Malaysia sees more households in which both parents are working to support the family, otherwise known as dual-career families.[1]
For many Malaysian parents, it is difficult to support both their children and a career equally. The latest federal Population and Family Study reveals that the most common reason women leave their jobs is because they struggle to balance work and childcare.[2] Research also shows that ensuring their children's safety, and maintaining an attentive relationship with their children, are the two major concerns for parents who send their children to daycare – but this is often difficult to achieve under a tight schedule.[3] There is often a gap in communications between parents and teachers.
This is where LittleLives comes in. "Pre-school technology is taking up an increasingly important role in addressing these issues, which are faced not only by parents, but also by teachers," said Arjuna Raj, Chief Strategy Officer at LittleLives. "Not only is it easier now for parents to feel reassured about their children's safety and progress, but teachers can also save time on paperwork through the LittleLives app and focus more of their attention on supporting the child's growth."
Parents and teachers work together by using the app to log the growth, education and development of children. Here are some of the app's best features:
Find, enrol and check in at the school
Receive to-dos and notifications to monitor your child's visual health in a printable report
Keep track of school fees and resources in your school
E-learning tools with lesson plans and interactive apps as teaching aids
Record the precious moments with photos and videos in the child's portfolio
Evaluate child's progress
Teachers can share these moments and vital notifications with parents
Connect with a global network of educators and bring different cultures into your classroom
Parental involvement is critical in a child's development. Rozy Khalid, Counseling Psychologist at The Mind, emphasises the importance of staying present in your child's education despite being a working parent. "Validation from a parental figure is significant in building your child's confidence, self-competency and self-identity," Rozy said. "Research shows that engaging both parents and teachers is also crucial in a child's early literacy acquisition, social skills, school readiness and other considerations. It is therefore a mistake to place the full responsibility of education on your child's teacher – there should be equal importance between home and school."
This is why it is vital for parents and teachers to work together more closely to monitor, and encourage, a child's progress. "The home-and-school partnership is a key step that is transforming pre-school education," said Aqilah Che Azizuddin, Director of Kool Kidz Malaysia. "While schools are always aware that the home environment is essential to a child's development, there needs to be more direct collaboration between teachers and parents, in order for children to feel secure and that their needs are supported."
This EduTech company has optimistic plans for the future. "Our future expansion plans include launching in Indonesia and Thailand this year. We will also be including a HR feature on the app based on our client's feedback to ease administration work in tracking leave movement of staff." said Arjuna. LittleLives has already enabled teachers in over 1000 schools, across six countries, to nurture parental engagement in children's education. Their expansion in Malaysia is supported by OSK Ventures, which will give them a strong boost to promote their transformation of pre-school education in the country.
[1] https://www.researchgate.net/publication/273988899_The_History_and_Current_Status_of_Dual-Career_Families_in_Malaysia
[2] https://www.nst.com.my/news/exclusive/2017/05/239138/hearts-programme-helps-housewives-stay-home-mums-work-their-hearts-out
[3] https://pdfs.semanticscholar.org/ccef/efcb6c93c7014138b947d446f4fae22c6e31.pdf