WATSONS' GET ACTIVE FEST, THE FIRST ALL-DAY FITNESS & HEALTH FESTIVAL DRAWN OVER 10,000 CROWDS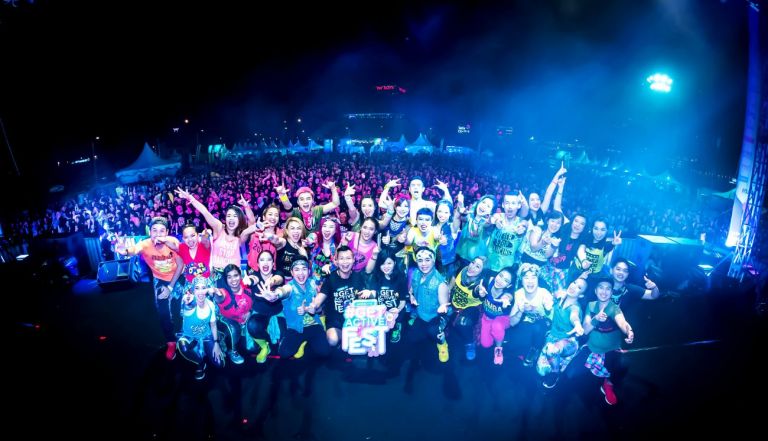 Selangor, 30 October 2018 – On 27 October 2018, over 10,000 of fitness enthusiasts across the country and people of all ages gathered at the Watsons first Get Active Festival 2018 held in Setia City Convention Centre. Boasted with many successes of Watsons' yearly grand fitness event, this year's happening returned with an extension of all-day festival of fitness, fun activities as well as beauty and health workshops. Organised by Asia and Malaysia's No. 1 health and beauty retailer, the fitness and health festival started in the wee hours of the morning at 6.00 am and ended at 11.00 pm with the ever popular Move Your Body Zumba.
"Leading the fifth year of Move Your Body Zumba event is a huge recognition of success for Watsons as the public look forward to our largest fitness gathering every year. Hence, we wanted to offer an even more rewarding experience to everyone by taking up a notch to organise a round-the-clock activities celebrating fitness and health with people of all ages." said Caryn Loh, Managing Director of Watsons Malaysia. Recognising the importance of practicing from young, the festival aims to reach out to families with children as well as young ones by introducing more kids' friendly outdoor activities.
"Besides making fitness fun for families, we wanted to emphasise the importance of education and practice of a healthy lifestyle to the younger generation too," Caryn further remarks. The participants of Get Active Fest are treated to the wee hours of Yoga in the Park session with well-known celebrity yoga master, Atilia Haron. Throughout the day, the event highlights included hot air balloon rides, wall climbing activities, a giant inflatable fitness playground, health, beauty and lifestyle workshops and cooking demos by experts, food trucks offering
healthy eats and treats keeping the attendees fuelled throughout the day and upbeat activities bazaar before ending with the iconic Move Your Body Zumba with the country's top Zumba professionals. The crowd were also treated with local entertainment and artistes' appearances by Elite, Arja Lee, Ribbon Ooi and Pink Tan as well as Gary Chee.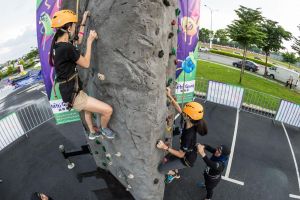 The GETACTIVE Fest's objective is to promote an active lifestyle to all Malaysians through physical exercises in a fun yet simple way. The festival is part of the Watsons' GETACTIVE campaign, a health initiative to further advocate healthy living and thus, positioning Watsons as the ideal healthy and beauty shopping destination, giving its customers an elevated shopping experience with a variety of brands and products.
Get Active Festival 2018 sponsors line-up has included 100 Plus, Axta Egg, Digi, Lasche X by Marketing 27 and Panasonic while the participating brands are as follows:
AMO BLINK AMMELTZ YOKOYOKO BRANDS BEROCCA
BLACKMORES BIOLIFE BAUSCH & LOMB BYEBYE FEVER
CEBION CETAPHIL COUNTERPAIN CHAMPS
EBENE ESSENTIALE FLAVETTES FRESHKON
GAVISCON HORLEYS HIRUSCAR KINOHIMITSU
NATURALLE NH DETOXLIM NH NUTRIGRAINS NATURE'S BOUNTY
OPTIFREE PHARMATON PROVITON REDOXON
SYSTANE SALONPAS SCHOLL SCOTT'S
TOTAL IMAGE T3 WATSONS VITAMIN C
For more information, visit www.watsons.com.my/promo-getactive-fest
Event Official Hashtag: #GetActiveFest #WatsonsMalaysia
#GetActive Promo Video: goo.gl/RnNEEr