Heads Outdoors With Sunplay Skin Aqua UV New Sunscreen
Do you depend on sunscreen for daily skin protection? Our skins are exposed to pollutants such as vehicle emissions, smoke and dust that contain particle tiny enough to penetrate the skin resulting in various skin problems that include premature aging, wrinkles, pigmentation and dullness. With our skin being the outermost barrier, it is damage-prone with constant exposure to pollutants and UV. Hence, sunscreen should be one of your tools in your arsenal.
There are 3 environmental triggers that are harmful our skin every day. UV rays can weaken your skin's protective mechanisms, thus making it extra sensitive. UVA rays penetrate the skin deeper than UVB rays and the main culprit of skin reddening and sunburn. Your skin is not just exposed to UV rays but various types of urban pollutants too. Fine particles from vehicle exhaust fumes and cigarette smoke may clog your pores and result in skin irritations, sensitivity and photoaging.
Malaysia, in general, can be described as a typical tropical climate where it is constantly hot and humid. We tend to rely on air-conditioners to keep us cold and frizzy, but do you know air-conditioners will weaken your skin's moisture barrier which loses its ability to keep moisture in and bad bacteria like yeast and acne bacteria out? So even if you stay at home and don't feel you're getting burned, your skin may still get some damages!
Defend against UV rays, free radicals and pollution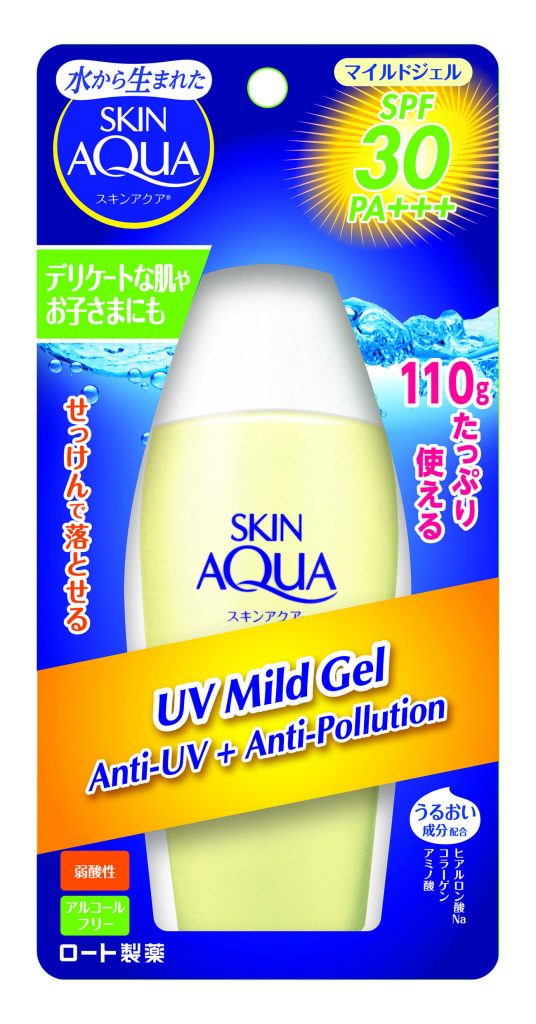 Developed to address skin problems caused by pollutants and UV rays, the Sunplay Skin Aqua UV Mild Gel SPF30 PA+++ is here to protect your skin against environmental pollution including PM2.5 particles; fine particle pollutants which are potentially harmful as they cling to the skin and become lodged in the pores which could penetrate into the epidermis layers. These tiny particles cannot be seen with naked eyes, but they are so powerful in causing various health problems including inflammatory skin conditions such as rashes and itching.
A guarantee of satisfaction
The Sunplay Skin Aqua UV Mild Gel SPF30 PA+++ is formulated with three moisturising ingredients, hyaluronic acid, amino acids and a collagen blend that functions to keep the skin moisturised and prevent it from premature aging. Its super light and watery texture make it comfortable for everyday use on both face and body.
Comes in SPF30 PA+++, it offers a broad spectrum of protection against UV rays. Free from fragrance, colourants, alcohol and mineral oil, making it gentle on the skin and safe for those with sensitive skin. Sunplay Skin Aqua UV Mild Gel SPF30 PA+++ is available exclusively at all Watsons stores nationwide at retail RM40 (110gram). For more info, you can go to their official website http://www.mentholatum.com.my/.