SAYAJUAL.IO to Raise RM6M in Crowd Funding Campaign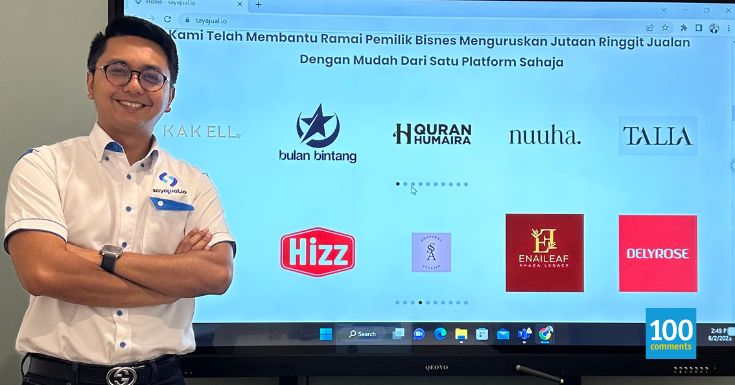 Since its inception as a dropship platform in 2021, SAYAJUAL.IO has turned heads in the industry.
To date, the social commerce platform has successfully processed RM131 million in sales transactions, and RM20 million commission pay-outs to over 15,000 registered resellers.
"We are excited to close in on our two year target of becoming the leading 'sales machine' for business owners to generate more sales locally and internationally," said Ts. Azrul Zafri Azmi, Chief Executive Officer of SAYAJUAL.IO who co-founded the company with five others.
SAYAJUAL.IO is now looking to raise RM6 million via crowd-funding in its mission to become the top option for the public to generate income via social commerce.
"Via PitchIN, we are diluting 13.5% shares for the public so they too can have a share of the exciting journey SAYAJUAL.IO is taking on. This campaign will take three months," he adds.
The investment will go towards the company's aim to complete the whole eco-system in social commerce within five years – serving from end-to-end from the product manufacturing to the delivery of the product at the customer's doorstep.
Among them is the setting up of SAYASIMPAN.IO which is a warehouse service platform, SAYAHANTAR.IO (courier and delivery services), SAYAFOUNDER.IO (OEM manufacturing services) and SAYABAYAR.IO which covers digital payment services.
"Simultaenously, SAYAJUAL.IO is looking at the opportunity to expand into the ASEAN market. We are embarking on this with Indonesia as social commerce holds a larger market there. A pilot merchant in Indonesia will start using SAYAJUAL.IO platform this year," Azrul Zafri lets in.
Since its inception, the platform has increased revenue in 2022 by 100%, compared to 2021 and as far as sales transactions and resellers are concerned, they also doubled up within just a year with the growing number of merchants signing up with the platform.
Among the prominent merchants that are part of the SAYAJUAL.IO set-up are Kak Ell Cosmetics, Talia Beauty, Bulan Bintang and Quran Humaira.
"We are also looking to achieve a sales transaction of RM 700 million within the platform in two years' time. and we are confident that this can be met," Azrul Zafri adds. A figure familiar with digital and online retail businesses, his brothers are behind renowned brands like Hausboom and Bulan Bintang.
SAYAJUAL.IO is owned and developed by AZOR Industries Sdn Bhd which is an IT solution provider company, specialising in software engineering and development. AZOR was founded by an experienced team in IT industries and was in the background for many IT projects before developing SAYAJUAL.IO.
The platform helps connect online business owners, or merchants, manage their sales operation in terms of ordering management, inventory management, courier management, marketing tools and reseller management. Simultaneously, SAYAJUAL.IO helps resellers – also known as dropships, stockists and agents – to submit their orders once the sales activity is conducted.
SAYAJUAL.IO is integrated with courier services the likes of Ninja Van, POS Malaysia and DHL to automate the fulfilment process to ensure that the end-to-end process of ordering is worry-free up until the customer receives their items. The platform is also integrated with digital payment gateway providers and provides the opportunity to earn an income through becoming resellers, dropships, agents or stockists.
"In short, SAYAJUAL.IO helps online business owners to enhance their operations by automating business processes and helping them to recruit quality resellers to improve sales. At the same time, we look to help the public to generate income without any capital and flexibility to perform sales online from home," Azrul Zafri says.