SARAWAK TOURISM BOARD WINS BRANDLAUREATE WORLD BEST BRANDS AWARDS 2019 FOR DESTINATION BRANDING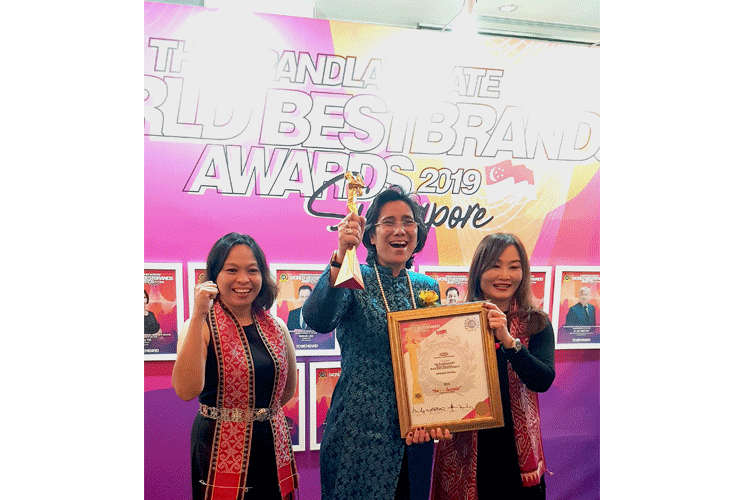 Singapore, 5 November 2019 – Sarawak Tourism Board (STB) has once again emerged tops in its category by clinching the exclusive BrandLaureate World Best Brands Awards 2019 for Destination Branding. The award is another feather in the cap for STB since the launch of its Visit Sarawak Campaign 2019/2020.
STB CEO Sharzede Datu Hj Salleh Askor said, "We are most honoured to be conferred this award by a prestigious body such as The World Brands Foundation (TWBF). Not only does it augur well for Sarawak as a tourism destination for the world, but also bodes well for tourism in Malaysia as a whole."
Destination Branding, which is aimed at promoting a tourist destination through the building of a linked brand, gives value to the destination, so that tourists are able to recognise and share the brand identity. It is also about identifying the destination's strongest and most competitively appealing assets, building a story from these that makes the destination stand out above its competitors, and running this narrative consistently through all marketing communications.
"STB had launched our 'Sarawak – More to Discover Campaign' in the last one year, where we have been aggressively promoting what Sarawak has to offer visitors in the areas of Culture, Adventure, Nature, Food and Festival ('CANFF'). This is also part of Experiential Tourism which provides a life-enhancing experience for tourists, where the better the experience, the better a destination stands out from others. We are delighted that this campaign has received worldwide recognition via this prestigious award," added Sharzede.
Sharzede represented STB to receive the exclusive award from BrandLaureate's TWBF Chairman, Tan Sri Rainer Althoff, at the glittering award ceremony held recently at the Shangri-la Hotel, Singapore.
The awards only has one winner from each category and STB walked away with the coveted award and pewter trophy, plated in 24k gold and adorned with the very finest Swarovski crystal, signifying the success of the winning brands and the pursuit of brand excellence.
The TWBF awards ceremony aims to recognise brands in Malaysia and the Asia Pacific Region. It identifies and supports outstanding Malaysian brands to be global brands and celebrates deserving brands through this prestigious occasion. Founded in 2005, TWBF is a non-profit organisation dedicated to developing brands in a myriad of business backdrops.
Among other recent notable international wins by STB was in September when it grabbed the Gold Award in the "Marketing Media – Travel Video" category of the Pacific Asia Travel Association (PATA) Gold Awards 2019 with its "Why Limit Yourself" video and the Malaysia Iconic Event Award 2019 for the Rainforest World Music Festival during the Malaysia Business Events Awards (MBEA) Night 2019 in October.
About Sarawak 
A kaleidoscope of culture, adventure, nature, food and festivals: is the best description for Sarawak. Sarawak comprises 27 ethnic tribes with their own unique traditions, lifestyles, music and food, while sharing their warm hospitality. Malaysia's largest state, Sarawak, endowed with some of the oldest rainforests on Earth. Its vast landscape spans over 120,000 sq kms, with towering mountains and cool highlands, jagged limestone formations and mysterious cave systems, winding rivers and quiet beaches; where adventures are waiting to happen. Festivals are hosted throughout the year celebrate the eclectic blend of modern and traditional culture, food, music and religious practices that can be found nowhere else. In Sarawak, there is always 'More to Discover'.
About Sarawak Tourism Board 
Sarawak Tourism Board is the key promoter for Sarawak. STB is a winner of the Asia Pacific Excellence Awards 2016 by Asia-Pacific Association of Communications Directors (APACD) and has received the ASEAN PR Excellence Award 2015 Gold Award. The Rainforest World Music Festival is a five-time Top 25 Best International Festivals recognised by Songlines World Music Magazine (2011 – 2015) and won the Golden City Gate 2019 five-star award for the Rainforest World Music Festival's (RWMF) promotional video.