New JUMPA @ Sungei Wang annex opens on 25 September 2019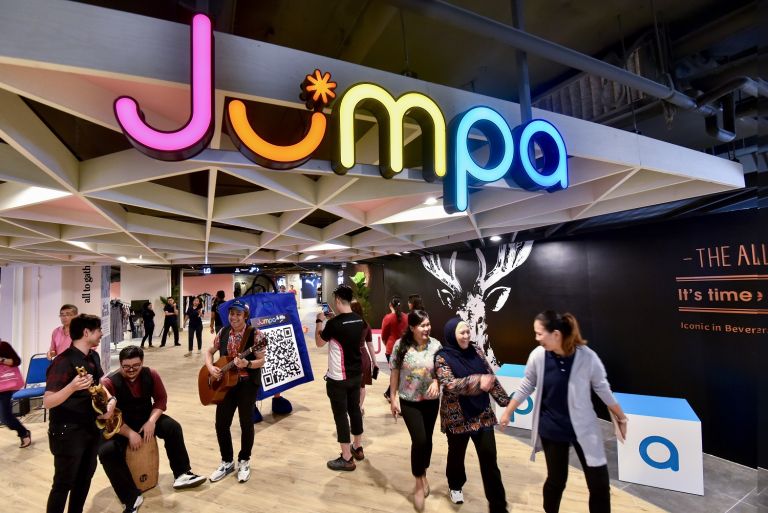 Kuala Lumpur, 26 September 2019 – Kuala Lumpur's newest retail destination, JUMPA @ Sungei Wang, is ready to welcome shoppers on 25 September 2019.  JUMPA @ Sungei Wang is the revitalised annex block of 42-year-old Sungei Wang located in the heart of the Golden Triangle.  It reimagines the everyday retail experience with a focus on catering to the young and young-at-heart who seek a modern and vibrant retail experience.
JUMPA @ Sungei Wang offers a wide range of retail, food and beverage, and family entertainment options.  It combines recreation with sports, carving out play areas for wall-climbing and athleisure activities as well as sporting goods and apparel retailers that cater to working professionals and families looking for a convenient place in the heart of Kuala Lumpur to work out, have fun, or relax.  JUMPA @ Sungei Wang does not just satisfy one's shopping needs, it is also a meeting place for friends and families to forge connections.
"Sungei Wang is one of the most established shopping malls in Malaysia, maintaining and refreshing its appeal through the years with numerous transformations.  In its latest transformation, we are pleased to present a new experience for shoppers at Sungei Wang as they weave through the old-world charm of eclectic offerings in the main block before reaching the modern and vibrant JUMPA @ Sungei Wang, a stylish gathering place with thoughtfully curated retail offerings and unique concepts.  We are pleased that JUMPA has received positive response from our tenants, achieving more than 85% in leasing commitment to date.  More brands will be announced soon, including a new-to-market anchor tenant," said Mr Lawrence Teh Cheng Poh, General Manager, Mall Management of CapitaLand Malaysia Mall REIT Management Sdn. Bhd. (CMRM).  CMRM is the manager of CapitaLand Malaysia Mall Trust (CMMT)[1], a shopping-mall focused real estate investment trust.
In the past 16 months, JUMPA @ Sungei Wang underwent a RM54.5 million facelift to convert the previous anchor tenant space into specialty stores, and update the facade and interior design of the annex block.  The refurbishment project was initiated by CMMT as part of its efforts to revitalise and enhance the appeal of Sungei Wang.
Sporting a new glistening gold façade, JUMPA @ Sungei Wang features more than 100 stores across six levels, along with a new Little Asia marketplace that invokes a heritage feel with its Peranakan-style printed tiles and open spaces.  Urban Street is a curated market place which offers limited edition fashion and accessories targeted at young and hip shoppers.  JUMPA @ Sungei Wang features seven new sets of escalators and enhanced visibility between floors through the creation of void space.  The retail space configuration helps to facilitate shopper traffic flow while its updated fixtures create a comfortable environment for shoppers to linger.
Sports enthusiasts will be delighted that JUMPA @ Sungei Wang offers a wide range of brands such as Anta, Skechers, Puma and outdoor and lifestyle brand, Outside – a one-stop store for activewear lovers.   Online fashion retailer Love, Bonito and Boundlezz are among the line-up of fashion outlets while new F&B brands include Restaurant Yi Poh and SRK Noodle House which offer local Chinese cuisine.   JUMPA @ Sungei Wang's anchor tenants include Camp5, Asia's premier indoor rock climbing gym, and MinNature, the largest 3D printed miniature exhibition in Malaysia.  The anchor tenants are expected to commence operations in December 2019.
Ms Elise Lim, Centre Manager of Sungei Wang[2], added, "As part of our efforts to refresh the retail experience at Sungei Wang, shoppers will be able to find creative merchandise and experiential activities at the various workshops held at the Main Creative Hub in JUMPA and organised by Main-main. This is a collaborative effort with Main-main where we provide the support to a group of entrepreneurs in showcasing their offerings.  To celebrate the opening of JUMPA @ Sungei Wang with our shoppers, we have planned a series of marketing events and activities in October 2019.  There will also be a Shop and Win campaign with total prizes worth RM25,000 to be won."
In conjunction with the opening of JUMPA @ Sungei Wang, the mall will hold a JUMPA to Win Campaign from 25 September to 20 October 2019, where shoppers stand to win Poh Kong 916 gold daily.  Lucky draw prizes also include Poh Kong Miss Petite jewellery sets, as well as Camp5 climbing session and multigym passes.  Visitors can also use the special GRAB2JUMPA promo code to redeem RM5 off their Grab rides to and from JUMPA @ Sungei Wang during the promotion period.
For more information on the latest promotions at JUMPA @ Sungei Wang, visit www.capitaland.com/sites/jumpa/index.html or follow the #JUMPAsoon conversations on:
[1] CMMT owns a diversified portfolio of five shopping malls and a complementary office block comprising Gurney Plaza in Penang; a majority interest in Sungei Wang in Kuala Lumpur, 3 Damansara and Tropicana City Office Tower in Petaling Jaya, The Mines in Seri Kembangan and East Coast Mall in Kuantan.
[2] CMMT's interest in Sungei Wang comprises (i) 205 strata parcels within the mall which represents approximately 61.9% of the aggregate retail floor area of Sungei Wang, and (ii) 100.0% of the car park bays in Sungei Wang.