MILO® Aktif Negaraku Energising Malaysians for an Active, Healthy Malaysia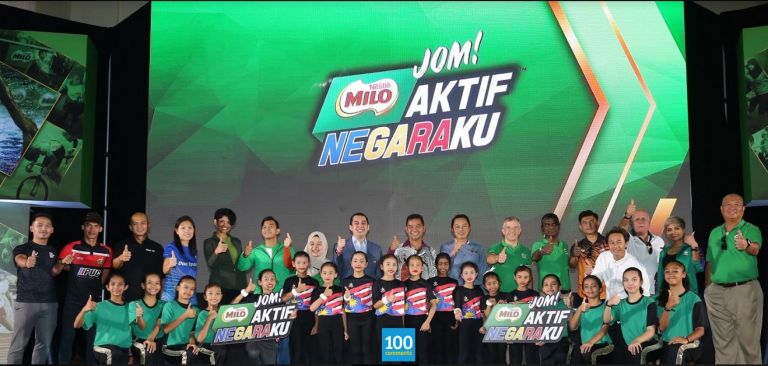 MILO® joined forces with its partners recently to elevate MILO® Aktif Negaraku, the movement to cultivate an active lifestyle among Malaysians, with a renewed commitment and bolder ambition to achieve sustainable outcomes for an active and healthy Malaysia. A new anthem accompanied by an exercise routine was one of the new elements introduced to get more Malaysians moving to this rallying call.
"MILO® Aktif Negaraku is a movement that was born out of our commitment to our brand purpose which is to make Malaysians active and healthy with nutritious energy and provide the inspiration to grow with sports. We have been nourishing Malaysians and championing sports and active
lifestyle for over 60 years. This year, we are proud to go further by taking MILO® Aktif Negaraku to the next level in hopes of galvanising Malaysians who have adopted an active lifestyle to sustain the habit and encourage other Malaysians to get active together under our movement," said Kumaran Nowuram, Executive Director, MILO® & Milks Business Unit, Nestle (Malaysia) Berhad.
A perennial mission of the brand at its core, MILO® Aktif Negaraku unites all existing MILO® grassroots sports programs, including MILO® Hidup Bola, MILO® Champions Clinic and MILO® Activ Jam Senam Aerobik under one banner. These programs are being activated through partnerships with the Ministry of Education Malaysia, OIympic Council of Malaysia and National Sports Council of Malaysia, as well as collaborations with local community groups.
MILO® Aktif Negaraku engages six million Malaysians, more than half of whom are children through the various MILO® sports programs in a year.
Kumaran added, "Being active through sports improves wellbeing and physical growth, especially if introduced at a young age. We also believe that sport is a great teacher in nurturing positive values, leading to a better life. We have seen the positive impact that sport has had on children whose lives were touched by our programs."
Bringing to life what the MILO® Aktif Negaraku movement stands for, the new MILO® Aktif Negaraku anthem performed by vocal powerhouse and advocate of active lifestyle Jaclyn Victor is set to inspire and bring Malaysians together to stay active. It is complemented by Rentak Aktif, the accompanying exercise routine synchronised to the beat of the song.
MILO® Champions Clinic, a grassroots sports program providing early exposure and skills training to children ages 7 to 12 years under the guidance of professional coaches, will also receive a boost. A "Train the Parent" edition will be introduced whereby parents of the children under this program will also be given the opportunity to undergo a similar training so that they, too, may benefit from the program as well as impart the skills to others.
Get active today with MILO® Aktif Negaraku. Learn more at www.milo.com.my.