Looking for a Nursing Pillow? Look No Further than this Big, Flopsy One!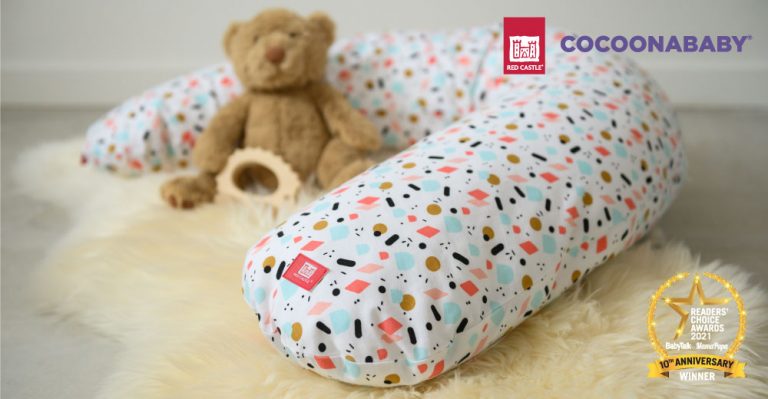 Pregnancy, as well as early motherhood, come with their own set of challenges which are unique to those stages in a woman's life. Inarguably, some of the discomforts that accompany women during pregnancy and after childbirth, particularly during the nursing period, can be demotivating, to say the least. Aches and pains all over the body can't be avoided… or can they?
During the later stages of pregnancy as well as during the first few weeks after childbirth, a woman's body undergoes rapid changes which brings about a number of discomforts. During pregnancy, sleeping, for instance, can get very uncomfortable as you try to support your belly and find the most comfortable position that won't hurt your lower back, thighs, hips, etc. after giving birth, the act of nursing your baby is known to be tiring and can get uncomfortable too after some time. In both these cases, mothers do not have to endure all these discomforts, aches and pains. All that is needed is a good quality maternity/nursing pillow that can lend some much-needed support where and when you need it the most!
These days, the use of nursing pillows have become quite popular, so much so that there are now quite a number of brands out there to pick from. What would you look for in such a pillow for yourself? Would you want a big pillow or a small one? Hard or soft? What should the filling be?
Comfortable, useful and versatile: Red Castle Big Flopsy Maternity & Nursing Pillow
If you're going to pick out a maternity or nursing pillow, it might as well be an award-winning one, wouldn't you say? So, take a look at what Red Castle Big Flopsy Maternity & Nursing Pillow has to offer!
As its name indicates, it is a rather large, comfy pillow, curved strategically to provide super comfort and relief for pregnant as well as nursing moms. During pregnancy, as mentioned earlier, there will be aches and pains to endure, hence having your very own Big Flopsy Pillow will surely be of great comfort. It provides relief for your belly, hips and thighs while you sleep, and you can use it any way which fits you in sitting positions too. When your baby is born, you can use it as a nursing pillow to take off some of the train on your arm and back. It can be used both while breastfeeding and also while bottle feeding.  You'll find that the Big Flopsy Pillow is extremely comfortable to use in any way you see fit, and your baby would probably love it too!
The Big Flopsy Pillow has ample micro-pearls as its filling, for that super-comfy squeeze ability and bending ability. The micro-pearls are non-toxic and odorless too. Its cover is 100% cotton for that extra touch of comfort all moms could do with. It's easy to keep clean too, for both the pillow and its cover are washable. Comfortable and ever so versatile, we say you don't have to be pregnant or nursing to have one of your very own!
The Big Flopsy Maternity & Nursing Pillow bagged the award for the best Nursing Pillow in the 2021 BabyTalk Readers' Choice Awards.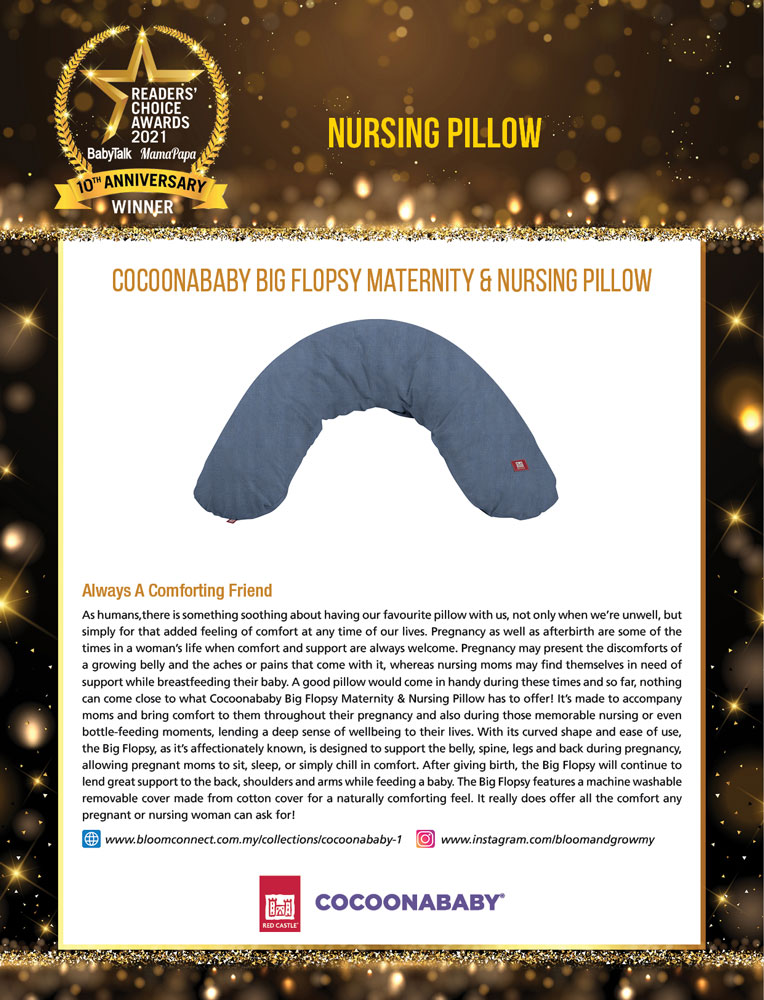 For more information, visit their website and 
 Instagram page.