Introducing Ayam Brand Tuna Organic Range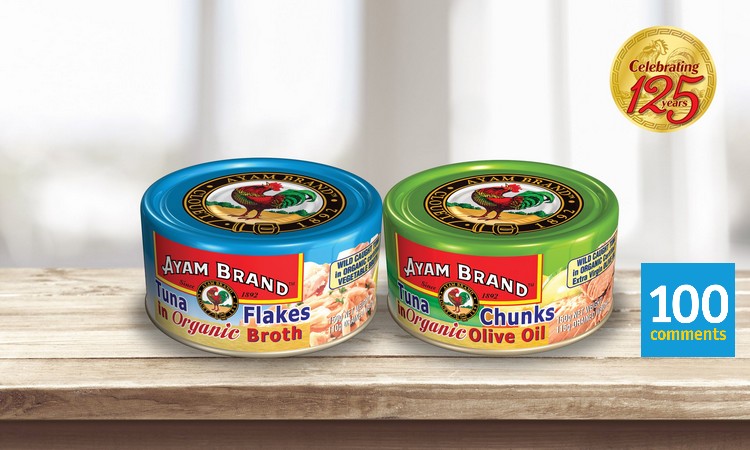 Ayam Brand has packed even more goodness into its delicious tuna range! The 125-year strong brand has recently introduced the Ayam Brand Tuna Organic range, namely, Tuna Flakes in Organic Broth, and Tuna Chunks in Organic Extra Virgin Olive Oil variants. It is the first canned tuna brand in Malaysia with a European certified organic medium.
The two new products combine the benefits of sustainably fished tuna, with certified organic vegetables and extra virgin olive oil for more natural flavor and goodness. This is in line with Ayam Brand's wide range of high quality, no preservative and no added MSG, healthy and convenient canned food.
Tuna is a good source of Omega-3, Selenium, Niacin, and Vitamins B6 and B12. It is an ideal lean protein, having fewer calories from fat than other protein sources. Its mild flavor and firm texture make it a favorite of seafood lovers, globally. Combined with organic ingredients, Ayam Brand has made this healthy dish even more nutritious!
Organic Vegetable Broth
Organic vegetable broth is made through the slow, low-heat boiling of organic vegetables and herbs such as carrots, celery and onions that help to preserve nutrients and taste. It is a very low calorie at just 12 calories per cup, making it a better choice for weight-watchers. Savoury organic vegetable broth is often used by the health conscious to flush out toxins from the digestive system much like a detox!
Ayam Brand™ sources certified organic vegetables for its organic vegetable broth for a more natural taste that is free from chemical residue.
European Certified Organic Extra Virgin Olive Oil
Every 100gm of the organic extra virgin olive oil contains Vitamin E (72% of the recommended dietary allowance), Vitamin K (75% of the RDA) as well as Omega-3 and Omega-6[3], and is rich in antioxidants. Research studies show that extra virgin olive oil has biologically-active substances that can help lower the risk of developing atherosclerosis, cardiovascular diseases and certain kinds of cancer[4].
European certified law for organic produce is among the most stringent. It requires the produce, the crop, the land which it was grown on, the factory in which it was processed as well as the procedures and ingredients used are all organic certified.
Ayam Brand™ is working with leading Italian organic produce brand, Alce Nero for product display and promotion partnership in Malaysia.
Ayam Brand Tuna Organic Range Is Halal Certified
The Ayam Brand™ Tuna range is certified Halal by official certification bodies recognized by JAKIM.
Recipes
Ayam Brand™ Tuna Flakes in Organic Broth or Tuna Chunks in Organic Extra Virgin Olive Oil can be enjoyed in many ways. For a healthier breakfast, make yourself a Tuna Wrap, or Tuna Porridge. For an afternoon snack to go with your hot tea, try the quick and easy Tuna Tofu Egg Patties.
If you're planning an East meets West fusion meal, try a starter of Italian-influenced Tuna Tomato Bruschetta followed by Surf and Turf, with a home grilled steak paired with Spicy Tuna Potato. Pair it with Tuna Kerabu for your salad. Delicious, nutritious, organic and surprisingly simple to prepare.
If you're looking into exploring different textures and interesting taste combination, then heat up your oven for Tuna in Fluffy Egg Clouds.
Give the Ayam Brand™ Organic Tuna range a try, and experience a new level of naturally great taste!
Spicy Tuna Potato
INGREDIENTS:
1 can Tuna Chunks in Organic Olive Oil (with oil)
4 Idaho / Russet potato, peeled and cut into 1 inch cube
1 tbsp paprika powder or chilli powder
2 red onions, diced
Salt to taste
Oil for cooking
2 stalks fresh coriander, chopped
METHOD:
Toss potatoes with paprika or chilli powder.
Heat 50ml oil in a non-stick pan and fry potatoes until light brown. Add in onions and tuna and continue frying until potatoes are cooked.
Adjust seasoning with a little salt and serve with some chopped fresh coriander or parsley.
Tip: This can be a dish on its own or eaten as a side to a beef steak, or tossed in a salad
Tuna Kicap manis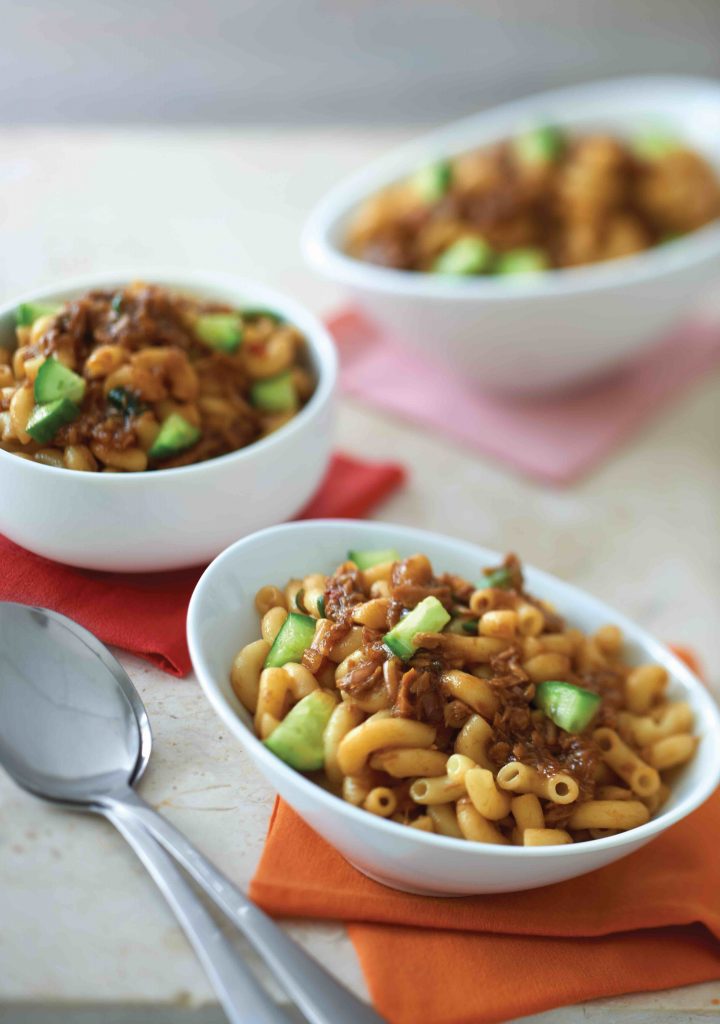 INGREDIENTS:
1 can Chunks Tuna in Organic Olive Oil (with oil)
100ml kicap manis (sweet soy sauce)
½ tsp salt
1 red onion, finely chopped
6 chilli padi, finely chopped
METHOD:
Mix all ingredients. Toss it with blanched yellow noodles or cooked pasta and season it with a little light soya sauce for more taste.
Tuna Fluffy Egg
Makes 4 servings
INGREDIENTS
185 g Ayam Brand tuna flakes in organic broth
3 tablespoons chopped coriander
1 medium tomato, deseeded and diced
salt and pepper to taste
4 eggs, separated
METHOD
Mix tuna with coriander, tomato and egg yolks.
Season to taste with salt and pepper.
Preheat oven to 220°C. Line a baking tray
with baking paper.
Whisk egg whites with a dash of salt until
stiff peaks form.
Spoon dollops of the meringue onto the
prepared tray, then drop a spoonful of tuna
mix in the middle of the meringue.
Bake for 5-10 minutes or until crisp and golden
brown on the outside.
Serve immediately.
Tuna Tofu Eggs
INGREDIENTS:
1 can Ayam Brand™ Tuna Flakes in Organic Broth
3 eggs, lightly beaten
1 packet soft tofu, mashed
3 tbsp fresh coriander, chopped
1 red chilli, chopped
1 red onion, chopped
Salt to taste
Oil for frying
METHOD:
Mix all the ingredients in a bowl.
Heat enough oil for pan frying in a non-stick pan and add a tablespoonful of the mixture to fry till golden brown on both sides.
Serve hot with rice or on its own as a snack.
Tuna Wrap
Makes 2 servings
Ingredients
185 g tuna flakes in organic broth
200 g sweet corn
50 g carrots, grated thinly
4 cherry tomatoes, diced
4 lettuce leaves
50 g cucumber, thinly sliced
sea salt & pepper
2 wholemeal tortilla wraps
balsamic vinegar or chilli sauce
dressing, optional
Method
In a bowl, mash the tuna from the can.  Mix with the corn, grated carrots and diced tomatoes.
Season with salt and pepper to taste.
In a non-stick frying pan, lightly toast the tortilla wrap and set aside.
Put a tortilla on a flat surface, place lettuce leaves in the middle of the wrap. Spread 1 to 2 tablespoonful of the tuna mix over the lettuce leaves. Add shredded cucumber and carrots. Then roll the wrap and gently slice in half.
Repeat with the second tortilla wrap and serve with a side of salad.
SERVING TIP:
Before wrapping, add a dressing such as balsamic vinegar or chilli sauce, to taste.
For more recipes using tuna, log on to http://www.ayambrand.com.my/recipe.html.