Hada Labo's New Kotojyun Serum Mask For Glowing, Soft, Smooth & Supple Skin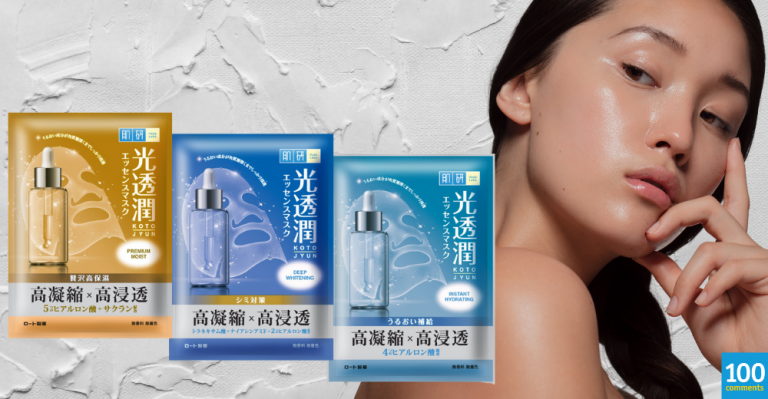 Contains High Penetrating Serum & Hyaluronic Acid for a
Long-Lasting Hydrated Skin
Hada Labo's new Kotojyun Serum Mask collection is an elixir for youthful radiant skin, that instantly hydrates the skin with a single application. The result is glowing, smooth and supple skin all day long!
Each mask is infused with 23ml high penetrating beauty serum to give the skin an instant boost of moisture and hydration. A 15-minute pampering session with the Kotyjun Mask will promote radiant soft smooth skin when added to Hada Labo's recommended skincare routine which also include a cleanser, lotion, essence, moisturiser and sunscreen.
The Hada Labo upgraded Kotojyun Mask comes in three variants to tackle different skin conditions. They include:
Premium Moist offering intense moisture for very dry skin
Instant Hydration offering instant hydration for normal to dry skin
Deep Whitening offering hydration and brightening benefits that are suitable for dry, pigmented skin
Premium Moist Kotojyun Mask
Infused with 5 types of Hyaluronic Acid (i.e. 3D Hyaluronic Acid, Absorbent Hyaluronic Acid, Hyaluronic Acid, Nano Hyaluronic Acid, Super Hyaluronic Acid), high penetrating serum, Japanese Blue Algae, 3 types of Ceramide as well as Squalene to fully hydrate skin from the surface to inner skin layers. These highly effective hydrating ingredients work hand in hand to lock-in, store and replenish water for a soft, smooth and supple skin.
If you have a very dry skin condition, then the Premium Moist Kotojyun Mask is here to transform your skin! The Ceramides and Japanese Blue Algae help to form a layer of moisture retaining barrier, thus protecting the skin from moisture loss. They also strengthen the skin's natural barrier in locking-in moisture for a longer-lasting hydration effect.
Instant Hydration Kotojyun Mask
Infused with 4 types of Hyaluronic Acid and with high water retention ability to lock-in and retain water for long lasting hydration and high penetrating serum, they penetrate and infuse moisture deep into skin to fully hydrate skin from the surface to the inner skin layers for a significantly soft, smooth and supple skin.
The 4 types of Hyaluronic Acid infused in the Instant Hydration Kotojyun Mask are Super Hyaluronic Acid, Zinc Hydroluzed Hyaluronate, Nano Hyaluronic Acid and Hyaluronic Acid.
Deep Whitening Kotojyun Mask
The Deep Whitening Kotojyun Mask is infused with 4 types of highly concentrated brightening ingredients i.e. Arbutin, Tranexamic Acid, Niacinamide and Licorice Extract for an intensive brightening care. This beauty, hight penetrating serum mask penetrates deep into skin layers to deeply repair skin, lighten dark spots and even out skin tone to reveal a healthy glowing skin.
Directions for Use
Apply after cleansing face and Hada Labo Lotion.
Unfold mask over face and press with fingertips.
Relax for 10-15 minutes and remove mask.
Gently massage remaining essence onto skin until thoroughly absorbed.
The Hada Labo Kotojyun Mask is extremely comfortable and breathable! It is made from fiber derived naturally from plant that makes it breathable and comfortable. This skin friendly + innovative three-dimensional sheet fits perfectly onto the face to allow for deep penetration of the serum into the skin, ensuring that your skin is smooth and supple upon application.
The Hada Labo Upgraded Kotojyun Mask deeply hydrates and revives dull skin for a fresh and radiant complexion. It is ph balanced and alcohol-free, hence it does not irritates the skin.
Retailed at RM12.90 per sheet, you can now get the upgraded Hada Labo Kotojyun Mask at all Shopee, Lazada and leading pharmacies nationwide.