Enjoy a Virtual Mamak Stall Experience with a Good Cup of Teh Tarik Through the "Mamak Virtual Terbesar Teh Tarik Ori F&N" Campaign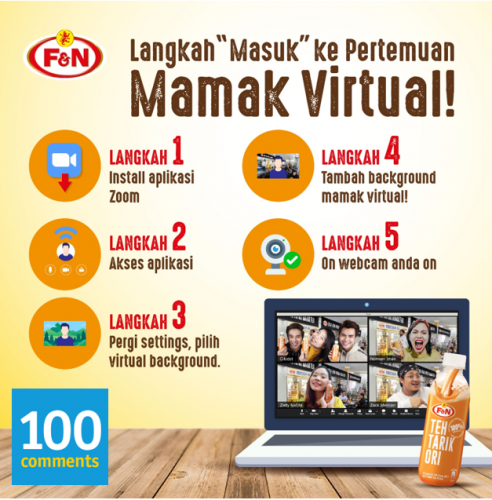 Malaysians can now hang out with their friends at their favourite mamak stall and enjoy their favourite teh tarik during the Movement Control Order (MCO), albeit virtually with F&N's out-of-the-box "Mamak Virtual Terbesar Teh Tarik Ori F&N" campaign.
Acknowledging how the mamak stall culture has become part and parcel of Malaysians' daily lives, F&N Beverages Marketing Sdn. Bhd. is bringing the mamak stall virtual experience to consumers through the campaign, which saw the launch of its new teh tarik beverage via Zoom.
According to Senior Brand Manager of F&N Beverages Marketing Sdn. Bhd, Adelene Tay, the "Mamak Virtual Terbesar Teh Tarik Ori F&N" campaign aims to enhance consumer experience while they enjoy their favourite Malaysian beverage in the safety and comfort of their own homes during these challenging times.
"Chilling out with family and friends at the mamak stall is synonymous with being Malaysians regardless of age and ethnicitiy. The relaxing ambience and long operation hours of the mamak stall make it convenient for Malaysians to hang out when they crave for a piping hot cup of teh tarik or their favourite mamak food.
"The "Mamak Virtual Terbesar Teh Tarik Ori F&N" campaign offers Malaysians from all walks of life an opportunity to continue enjoying teh tarik with their loved ones without having to leave their homes, just like if they were spending time together at the mamak stall. Not only that, consumers can try out our brand new teh tarik drink in a convenient bottle packaging as they update their family and friends with the latest happenings in their lives during the Zoom session," said Tay.
The launch of the virtual campaign featured influencers Cikidot, Norreen Iman, Zetty Nabila and Zack Merican who were chosen based on their outspoken and spontaneous personalities, coupled with a great sense of humour to engage and entertain consumers when they log in to Zoom.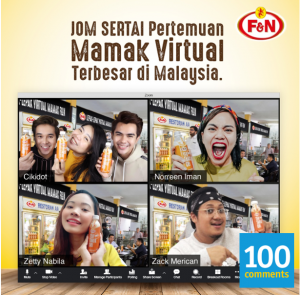 "The participation of these influencers will make the virtual video conference livelier and more entertaining. The influencers are also well known amongst Malaysians and we are confident that their participation in the virtual video conference will entice consumers to take part in the campaign," Tay added.
Zetty and Zack hosted the launch while a series of engagement activities and simple impromptu contests that utilise the native screen and chat functions of Zoom have been designed throughout the campaign period to encourage consumer participation. The effort ensures the virtual mamak stall is just as exciting as the real one, involving plenty of playful banter. Additionally, the virtual video conference creates a typical scene at a mamak stall to enable consumers to experience the joy of their mamak hangout sessions as much as possible, albeit virtually. The scene is available for download on the microsite.
Through the campaign, F&N Beverages Marketing Sdn. Bhd. aims to garner more than 500 viewers in hopes of breaking into the Malaysia Book of Records.
F&N's latest teh tarik drink can be purchased on F&N Life, Lazada and Shopee. Post-MCO, it will be available in petrol stations and convenient stores, provision stores as well as selected supermarkets. While orders from F&N Life will be delivered throughout Peninsular Malaysia, Lazada and Shopee are only offering delivery within the Klang Valley during the MCO. Once the MCO has been lifted, the online marketplaces will expand their delivery coverage to other locations throughout Peninsular Malaysia.
The F&N Life mobile app is available on both Google Play Store and Apple App Store, or visit www.fnlife.com for more info.