CheongKwanJang Empowers Malaysians with Nutritious and Uniquely Flavourful Korean Red Ginseng-Infused Local Delicacies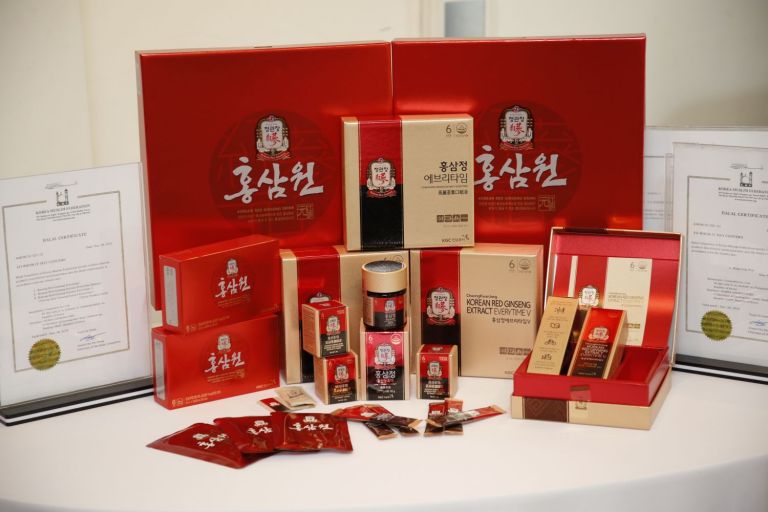 KUALA LUMPUR, 16 April 2019 – Korea Ginseng Corporation (KGC) takes everyday Malaysian delectable cuisines to all new heights, incorporating additional nourishment and health benefits through its traditional and authentic Korean Red Ginseng ingredient.
Recognizing the importance of promoting a healthier lifestyle in the form of wholesome easy-to-make recipes, KGC has partnered with international celebrity chef and media personality, Chef Anis Nabilah via unique cooking demonstration and workshop sessions held for members of the media.
Nature is full of medicinal herbs and plants with remarkable natural health benefits. Among them, Korean Red Ginseng, long regarded as one of nature's most prized herbs, has become arising global health supplement in recent years for its outstanding efficacy in improving the recovery of fatigue, lowering blood glucose levels and controlling blood pressure. Its remedial efficacy is a no stranger especially amongst the Asian communities including Malaysians. With 120 years of world-class legacy and heritage, KGC has been actively aspiring Malaysians nationwide to enhance their everyday health and wellness with the benefits of Korean Red Ginseng.
During the event, media were exposed to the various health benefits and recommended ways to consume Korean Red Ginseng via an interactive presentation by Ms. Lee Di Von of VHealth Traditional Chinese Medicine.
Following that, Chef Anis conducted a workshop and demonstration to showcase the unique ways to infuse Korean Red Ginseng into local delicacies. Media were divided into groups and put their cooking skills to the test in whipping up Sticky Date Pudding in Korean Red Ginseng Toffee Sauce with guidance from Chef Anis.
The session continued with a special demonstration of Chef Anis' signature Seafood Curry with Korean Red Ginseng much to the delight and amaze of audiences. Mr. Ji-Hwan Kim, Manager of Global Sales Department of KGC, speaking at the cooking workshop event, "We are proud to continue our wellness journey in empowering Malaysians to inhabit a healthy lifestyle through Korean Red Ginseng. Committed to becoming a trusted health partner, we are always exploring for creative methods to effortlessly instill healthier nutritional habit and lifestyle with our Korean Red Ginseng CheongKwanJang products and what better ways than to incorporate this highly-reputable ingredient into delicious cuisines that Malaysians always come to love. With Ramadan just around the corner, we believe that this event is very timely to inspire our fellow Muslims to adopt a combination of balanced, nourishing and flavorsome daily diet to stay healthy and energized during the fasting period."
"In addition, this is a great platform for us to further expand our reach into a broader market segment in Malaysia that is well-known as the melting pot of various cultures. Our recent achievement of additional Halal-certification as well as our latest product launch partnership with Astro GOSHOP's Malay Channel allow us to introduce a wide range of Korean Red Ginseng extract products – 'Everytime' line-ups with different portions of Korean Red Ginseng and 'Hong Sam Won' in the Malaysian market. We hope to witness our CheongKwanJang Korean Red Ginseng products that are specifically designed to cater to the hectic lifestyle of today's consumers living in a modern era," added Mr. Kim.
Chef Anis Nabilah commented on the health wonders of Korean Red Ginseng, "The red ginseng extract has an acquired, earthy and slightly bitter taste to it. While experimenting with the product-infused recipes myself, I realized that the extract contributes to enhancing the palates of everyday dishes. Simultaneously, the extract helps to increase the nutritional values of family meals without compromising its taste. I personally recommend Korean Red Ginseng-infused meals for the health-conscious Malaysians."
Taking pride in its history of contributing to people's health around the world and outstanding efficacy, KGC has been investing more than 20 billion Korean Won (approximately US $ 1.76 million) every year on research and development. With the committed reliability and accountability as a trusted health partner, KGC continuously strives forward to create better and healthier lives for Malaysian consumers by providing the world-class quality of Korean Red Ginseng products under its brand CheongKwanJang. KGC CheongKwanJang Korean Red Ginseng products are available at leading retailers, including Isetan Grocery Store KLCC, BMS Organic outlets, Hai-O Chain Stores.