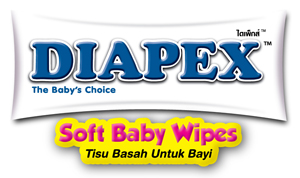 DIAPEX Soft Baby Wipes
100comments Product Excellence Award 2020 Winner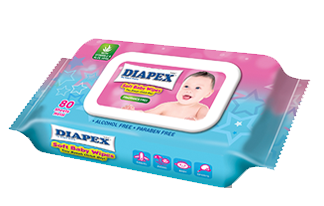 Awesomely Creative Ways To Use DIAPEX Soft Baby Wipes
The winner of 100Comment's Product Excellence Awards 2018, DIAPEX Soft Baby Wipes is trusted by mothers as it is effective yet gentle on babies.
Babies and messes often go hand in hand, even after you've just cleaned them up. Thank goodness for DIAPEX Soft Baby Wipes – those little wet pieces of disposable cloth which we can depend upon for quick and easy clean-ups anytime! Always carry a pack or two in your diaper bag. Here are some creative ways to use DIAPEX Soft Baby Wipes for baby and mummy:
Spot Cleaning Public Spaces
Let's face it, when you and your baby are out in a public space, chances are most of the surfaces are contaminated. If we could help it, we'd encase our baby in a protective cocoon whenever we bring them out so that no nasty bugs can harm them. While we can't do that in real life, a workable option would be wiping down public places with DIAPEX Soft Baby Wipes. Bring them everywhere you go and whip them out to wipe down high chairs, café tables, shopping cart handles, diaper changer tables, toilet seats and doorknobs.
Cool down during hot days
Knowing how oppressively hot it can be, it's a great idea to put some baby wipes in a zip lock bag and stuff it in a cooler bag with an ice pack to use when you are out on a day trip, the park or the beach. You can also pop it in the fridge to standby when it gets hot at home. It's also great to bring down warm body temperatures.
Attach To A Dust Mop
If you run out of disposable floor cloths, fret not. You can attach a piece of baby wipe to the flat dust mop i.e., Swiffer or like the ones from Daiso to pick up dust or hair. The wipes will fit well and work great as a substitute to the floor cloths.
Remove stains
You'd be surprised how many parents use baby wipes to remove stains from pen, pencil and crayon from almost all surfaces including skin. These wet wipes are amazingly effective in removing such stains and are very convenient to clean up when you are on the move. Even people who work at clothing stores attest that they work in removing makeup off the clothes that customers tried on.
DIAPEX Soft Baby Wipes – So Naturally Good
DIAPEX Soft Baby Wipe is gentle on babies and performs an efficient job of cleaning up dirt and messes. Best of all, the wet wipe is also free from alcohol, fragrance and paraben. Infused with Vitamin E and Aloe Vera, it cleanses the skin without stripping off the moisture. Every parent should have one in their home and while they are on the go to clean up from any messes they may encounter.
For more information, visit www.diapex.com.my.
Find out why our readers love it!