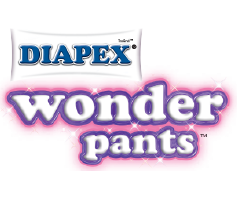 DIAPEX Wonder Pants
100comments Product Excellence Award 2021 Winner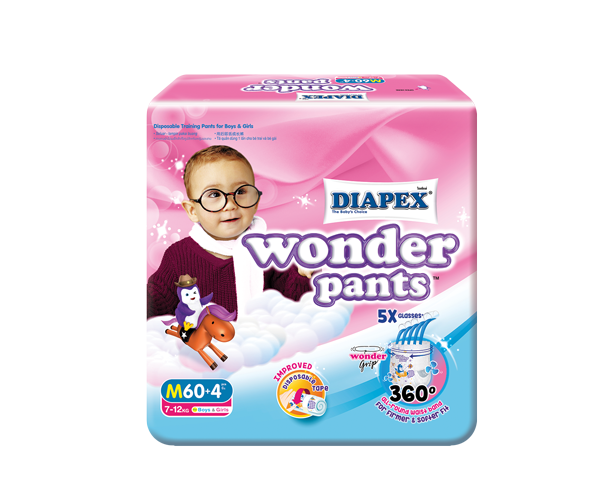 Diapex Wonder Pants – A Parent's Dream Come True
The winner of 100Comment's Product Excellence Awards 2018, DIAPEX Wonder Pants is trusted by parents across the world for its superior absorbency and quality design.
Your baby is going to go through a lot of diapers, so it's important to get them the best quality possible. Specially designed for active babies and busy working mothers, DIAPEX Wonder Pants are comfy and easy to wear.
As a winner of the 100Comments Product Excellent Awards 2018, DIAPEX Wonder Pants are truly wonderful for babies and parents alike. Here are just a few of the amazing features that makes DIAPEX Wonder Pants better than ordinary diaper brands.
5X Superior Absorbency
DIAPEX Wonder Pants uses Absorbent Wonder Gel – an extra superior absorber gel layer that acts to lock in moisture. DIAPEX Wonder Pants can safely absorb up to 5 glasses worth of water, meaning that it can help your baby remain comfortable all day long.
Wonder Grips 360°
DIAPEX Wonder Pants come with the innovative Wonder Grip – a special design that provides a 360 degree all around waistband for a firmer and softer fit. This revolutionary design allows your energetic baby to move about comfortably without the risk of diaper chafing or falling off.
Fully Breathable Material
DIAPEX Wonder Pants helps keep your baby's skin cool because it's made from a fully breathable material. By allowing air to flow into the diaper, Diapex Wonder Pants creates air circulation that improves your baby's comfort and freshness no matter how active they are.
Cute Designs For Different Sizes
With designs this cute, how could you ever say no? These colorful backsheet designs with their cheerful cartoon characters are simply too adorable to ignore! Every Diapex Wonder Pants has a special design based on its size.
Convenient Disposable Tape
DIAPEX Wonder Pants has a disposable that makes it more hygienic for mummies to dispose of the soiled diaper. Just roll up and secure the used diaper before discarding it.
Choose DIAPEX Wonder Pants Today!
The superior option when it comes to baby diapers, DIAPEX Wonder Pants provides your baby with the comfort and dryness that they deserve. The perfect diapers for an active child, DIAPEX Wonder Pants is something that every parent should have on hand.
DIAPEX Wonder Pants comes in three different packing sizes: Convenient Pack, Jumbo Pack and Super Jumbo Pack.
For more information about this and many other similar products, check out the DIAPEX website. You can also pay a visit to the 100Comment's product page to see what many of our readers love about this product!