Postpartum Pampering at Happy Baby Confinement Centre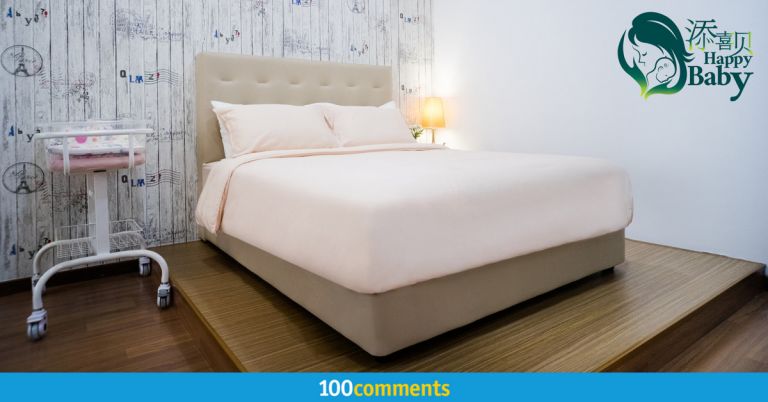 It takes time and effort to recover from childbirth and finding a full-service confinement centre such as Happy Baby Confinement Centre can save you from overexerting yourself and a lot of stress in the crucial weeks ahead.
A Confinement Centre With A Difference
Happy Baby Confinement Centre is founded by Datin Ho Jen Lian, a successful entrepreneur and mother of two. The former INTI International University lecturer has amassed 25 years of experience in the education industry and is currently the principal of Angel Academy Training Center, Little Angel Kindergarten, Little Angel Classroom as well as Si Manis Bestari. After completing a Postpartum course, she decided to set up a confinementcentrer with a difference, one that promotes education and hands-on confinement.
As such, Happy Baby Confinement Centre is built with the aim of promoting healthy parenting and the bonding of parents with the baby. By giving such a good start and foundation in creating a healthy family, this will pave the way for a strong and sound society in the future.
Where Traditional Meets Modern-day Confinement Methods
The confinement centre has successfully integrated a traditional and at-home style of confinement method with a professional and modern touch.
In terms of the traditional methods, the food is prepared in accordance with the age-old Chinese Tonic arrangements to produce nourishing confinement meals. The mother will also shower with herbs that will energise and strengthen her.
To complement the traditional confinement practice, a team of professional nurses trained in the modern-day methods of administering medical care will attend to the mother and baby. The home is also sanitized with a UVC sterilizer every week to kill 99.9% of pathogens in the air and surfaces.
A Welcoming Environment
Located at 450 feet above sea level in Saujana Puchong, Happy Baby Confinement Centre boasts of a naturally cooling environment that makes for a pleasant stay. The 2 ½-storey semi-detached house with a gross built-up of 3,850 sq. ft. where the centre is situated offers 6 lovely, clean and comfortable rooms with 3 different room types, namely Deluxe, Superior and Comfort. The Superior and Comfort rooms come with attached bathrooms for the convenience of their residents. Equipped with every amenity a new mother needs, the house is also surrounded by lush greenery, making it an ideal home away from home for you and your baby.
Giving Peace of Mind to Mothers
These days, there a significant number of mothers who suffer from postpartum depression. This is mainly due to hormonal changes, as well as the lack of support from the family. Such mothers will find Happy Baby Confinement Centre to be a place of refuge in their time of need. The experienced and caring staff will be on hand to empathise, guide and educate not only the mother but also the father on how he can best support her during this crucial time. The mother can take the time she needs to recover while having the peace of mind that her baby is in good hands.
Happy Baby Confinement Centre has trained staff to look after the baby 24/7. The house has multi-tiered security with thumbprint access and 24-hour security, plus all the rooms are equipped with CCTV as a safety measure.
Promoting A Strong Bond Between Parents And Baby
During the first week, the nurse will fully take care of the baby, giving the mother the opportunity to have a good rest. In the second week, the baby will spend 4 to 5 hours a day with the mother. In the third week, both the mother and father will spend 9 to 10 hours a day with the baby and in the fourth and final week, the number of hours will be increased to 14 to 15 hours a day. This promotes excellent hands-on bonding with the baby while giving the mother time to rest and recover. Fathers are also welcome to stay with the mother during the confinement period at no additional charge and they are trained to be a good helper when it comes to burping, bathing, feeding and handling the baby. This is great news for mummy!
Confinement is a period to relax and recharge while adjusting to your new chapter in life with your baby. During this time of compulsory rest, you can afford to slow down and take the opportunity for some self-reflection, pampering and enjoying time with your baby. At Happy Baby Confinement Centre, you will definitely have the best confinement care and emerge rejuvenated in a month, ready to take on your new role as a mom!
Packages start from RM12,888 nett for a 28-day stay.
Contact Details
Address: No 10. Jalan SP5A/10, Laman Granview, 47100, Puchong, Selangor Malaysia.
For more information about Happy Baby Confinement Centre, visit their Facebook page or contact them at +6010-256 6606 (mobile) and happybabyconfinementcenter@gmail.com (email). If you are a satisfied customer, feel free to leave a review here.